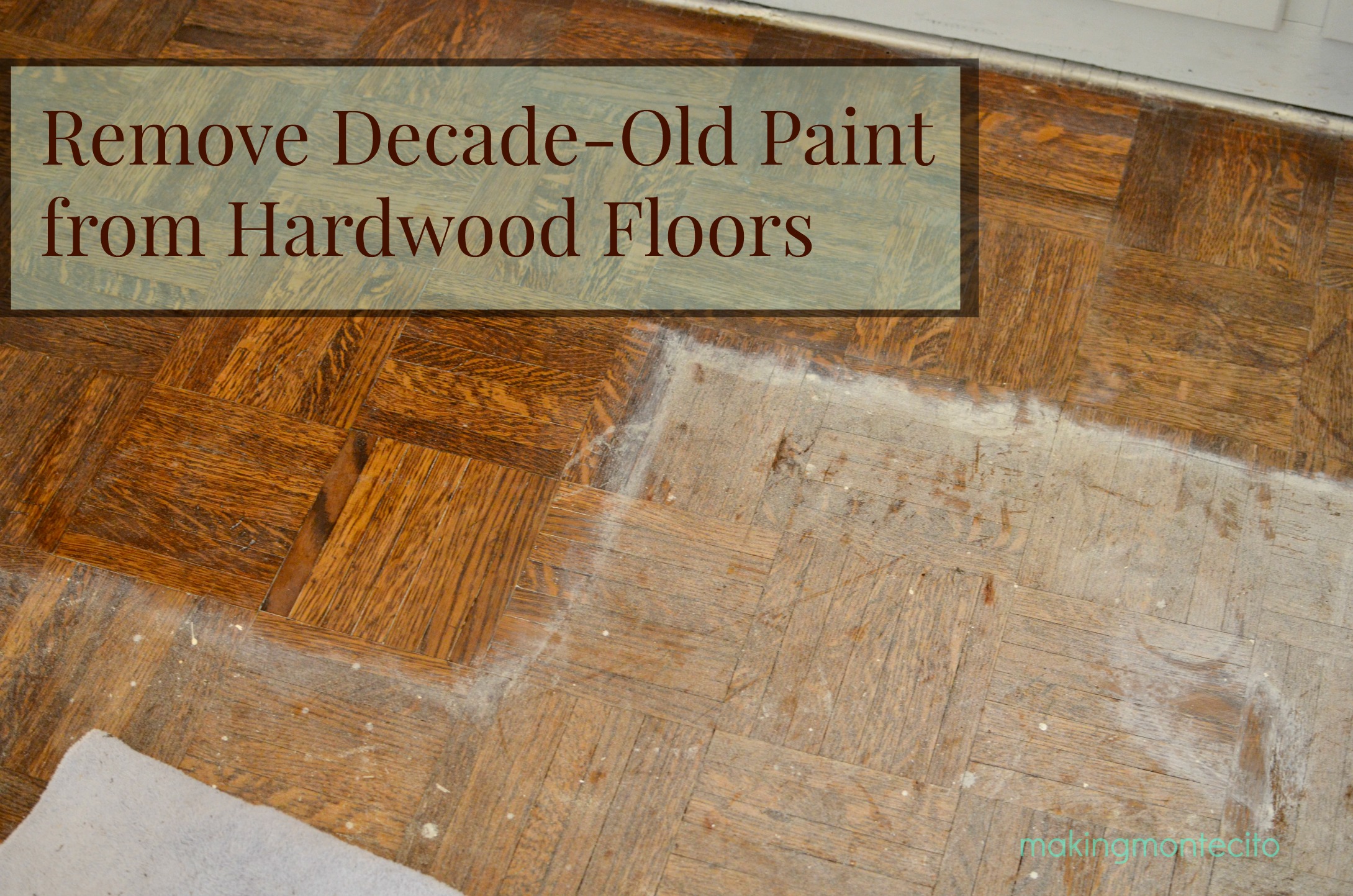 So here we are…
In my last post I showed how we had just pulled up the carpet in the living room to find tons of overspray.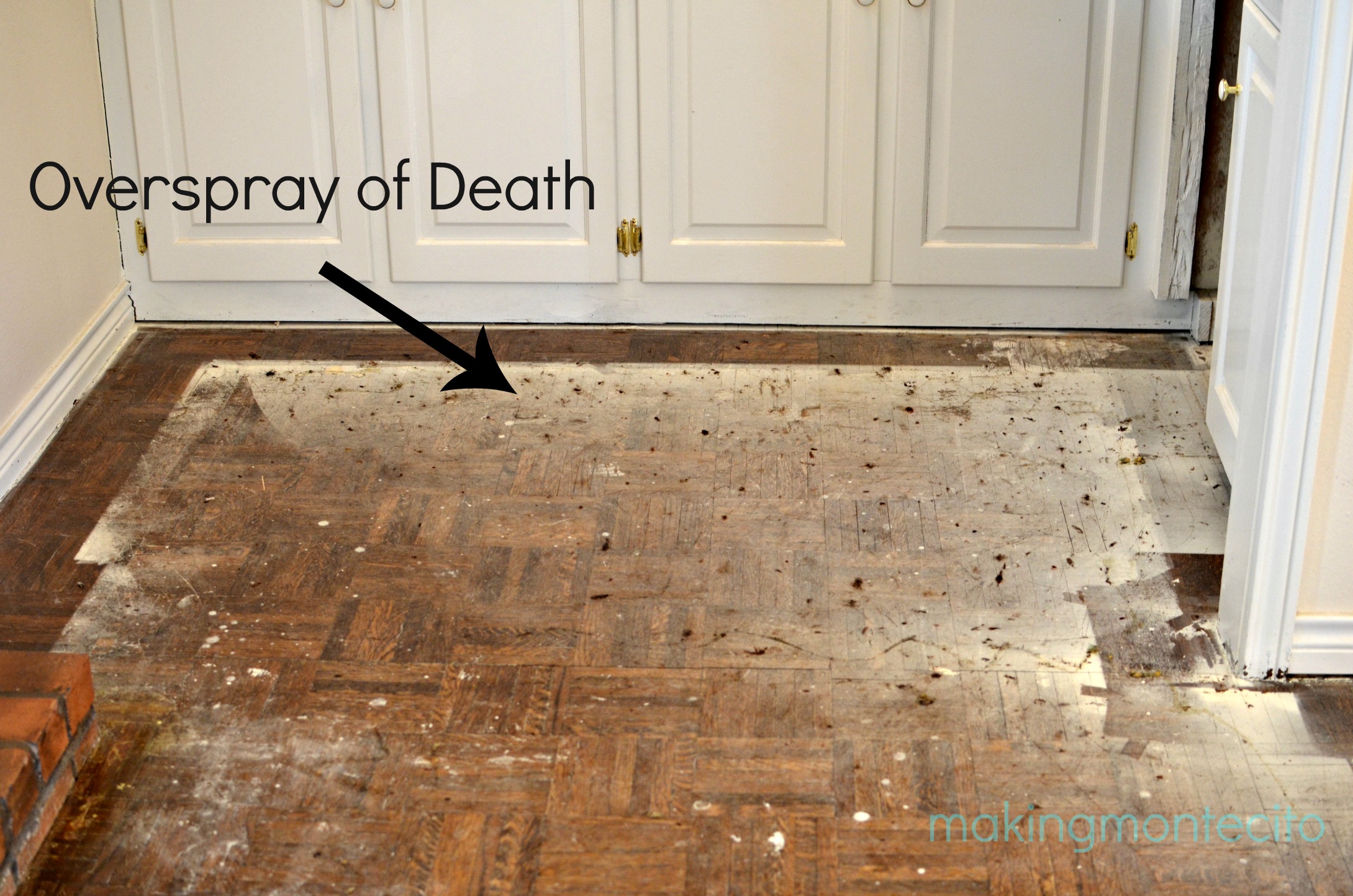 And glue.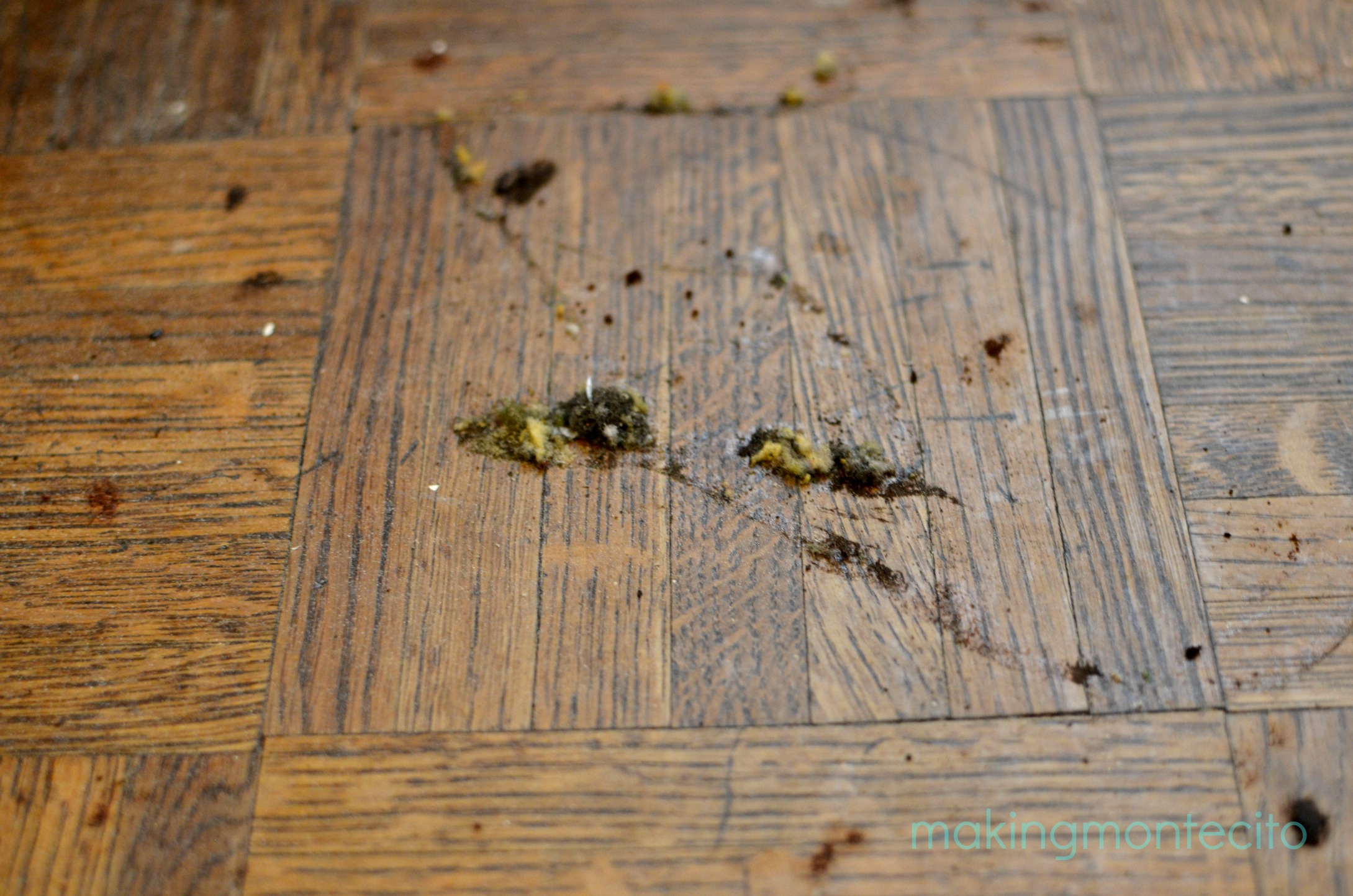 And gunk.
Here's how I tackled it.
Literally about 6 inches by 6 inches at a time. Time-consuming yes, but worth it in the end. These were all the things I tried (the one in the jelly jar on the right is not plum syrup, but vodka — Rob thought it would work — spoiler alert, it did not.)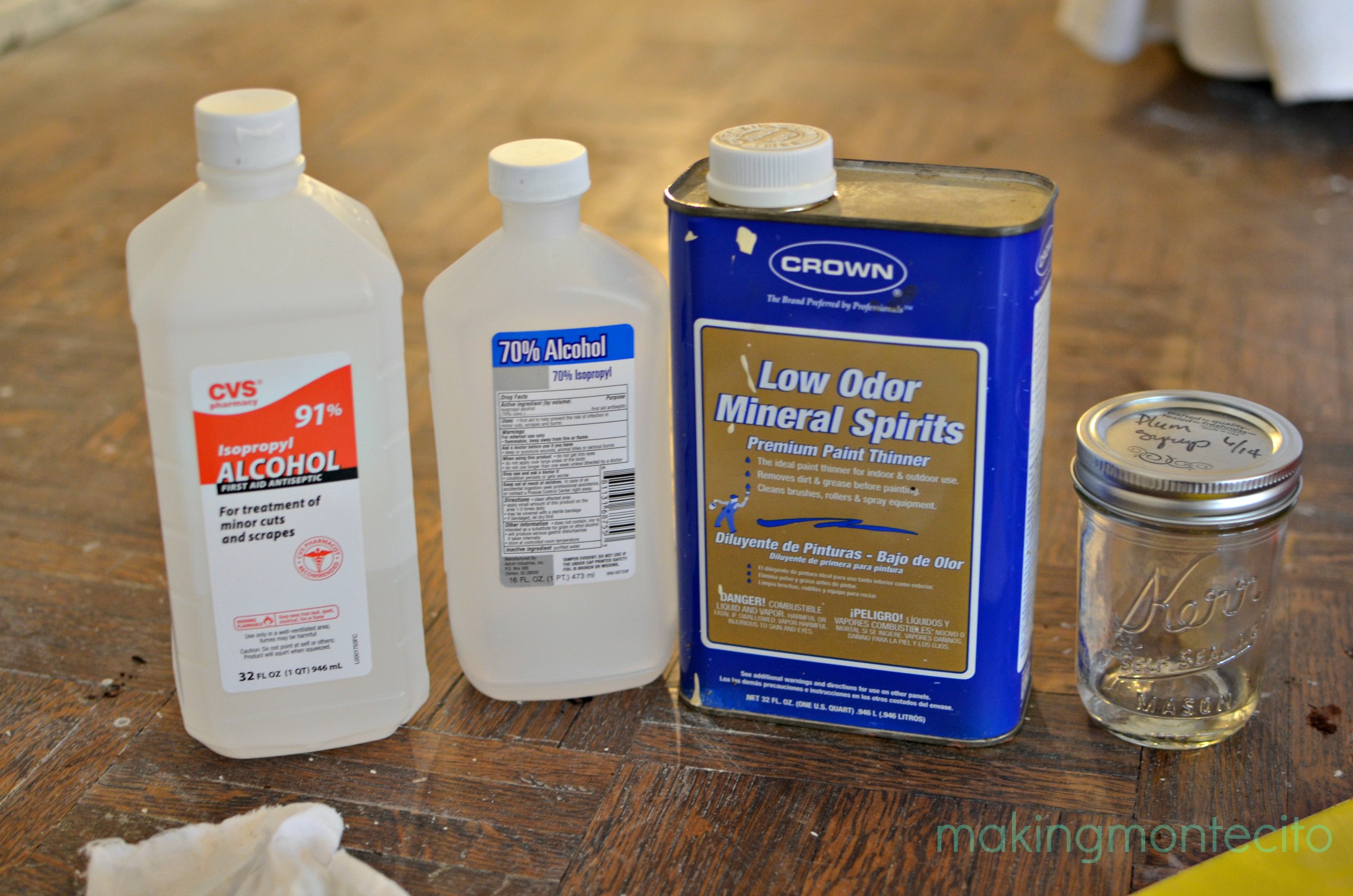 The best thing I found was good old fashioned isopropyl alcohol. I tried both the 91% and the 70% and found that one did not out perform the other, so I recommend going with the cheapest. Fair warning, my floors were in rough shape and this definitely takes off any top finish layer or protective coating. At this point, I didn't care as it was a last ditch effort to not paint them. Also, make sure you work in a WELL ventilated area. It may be "just alcohol", but the fumes are overwhelming.
Here's the progress: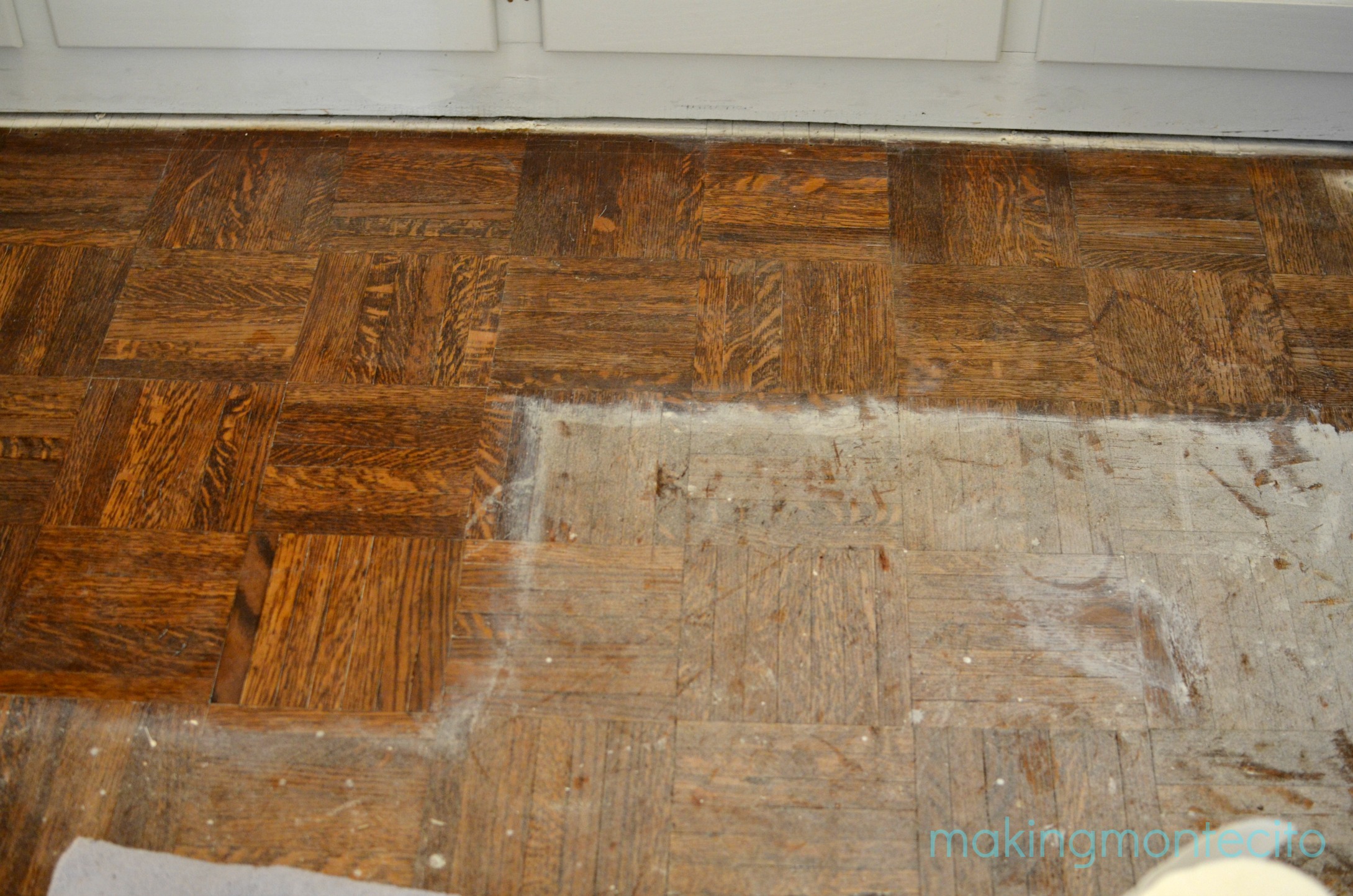 I was blown away at how well it worked! The above picture is where some of the worst overspray was located. Crazy!
Here's a little more detail on how I went about it…
Tools I used:
Rubbing alcohol put in a spray bottle for convenience
Putty knife/scraper
Several rolls of paper towels
Kitchen sponge (with a scrubby side)
Dollar store (or old used) toothbrush
Spray some alcohol on a manageable area and scrub with a kitchen sponge. Too big of an area and the alcohol starts evaporating before it you can get it scrubbed well. I tended to work on about a 4 block area at a time (the blocks are 6″x6″.)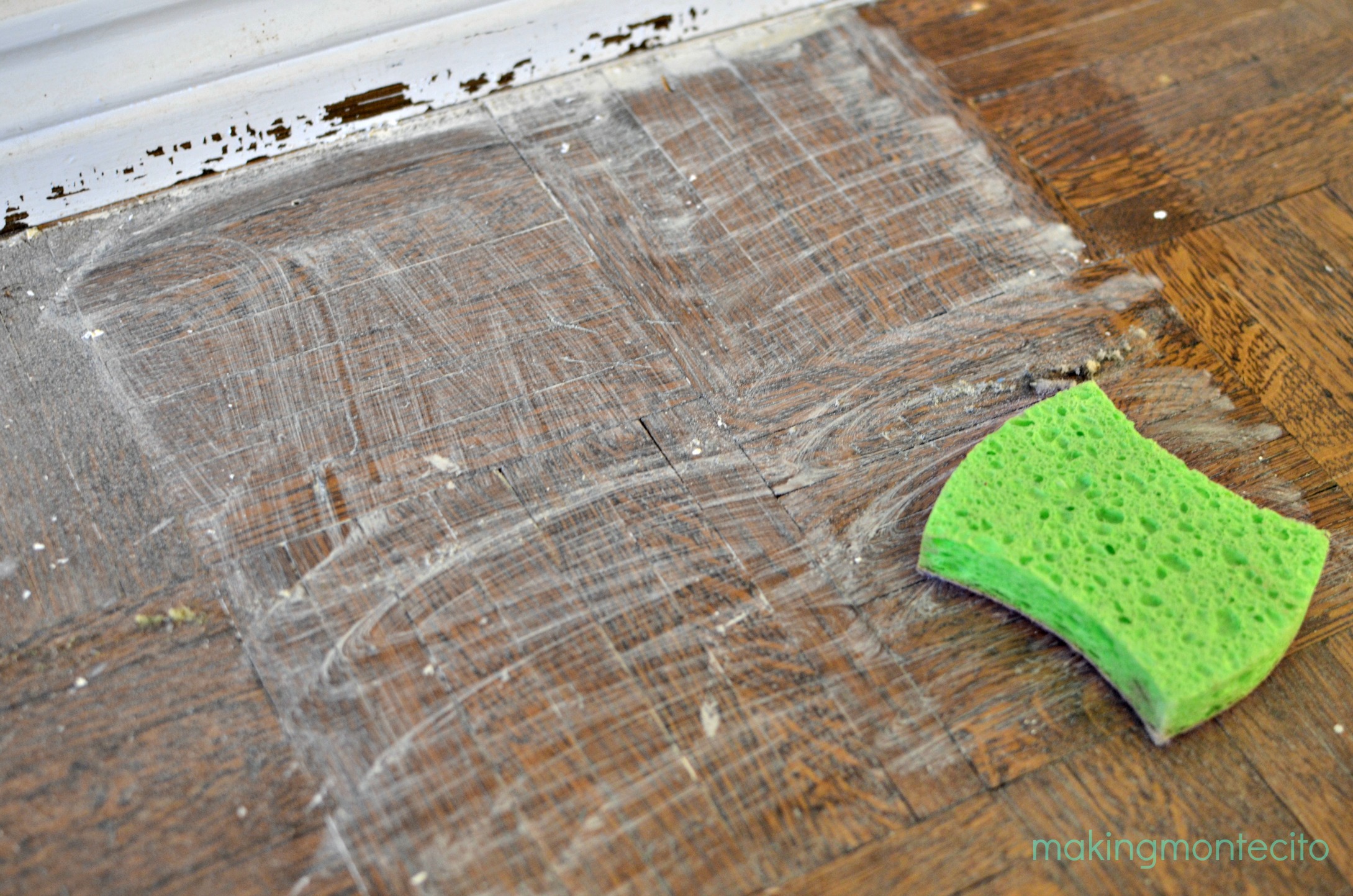 Immediately wipe with a clean paper towel. If you don't use a clean paper towel each time, you end up re-depositing wet paint on your floor. Ask me how I know (sorry for the bad photo!)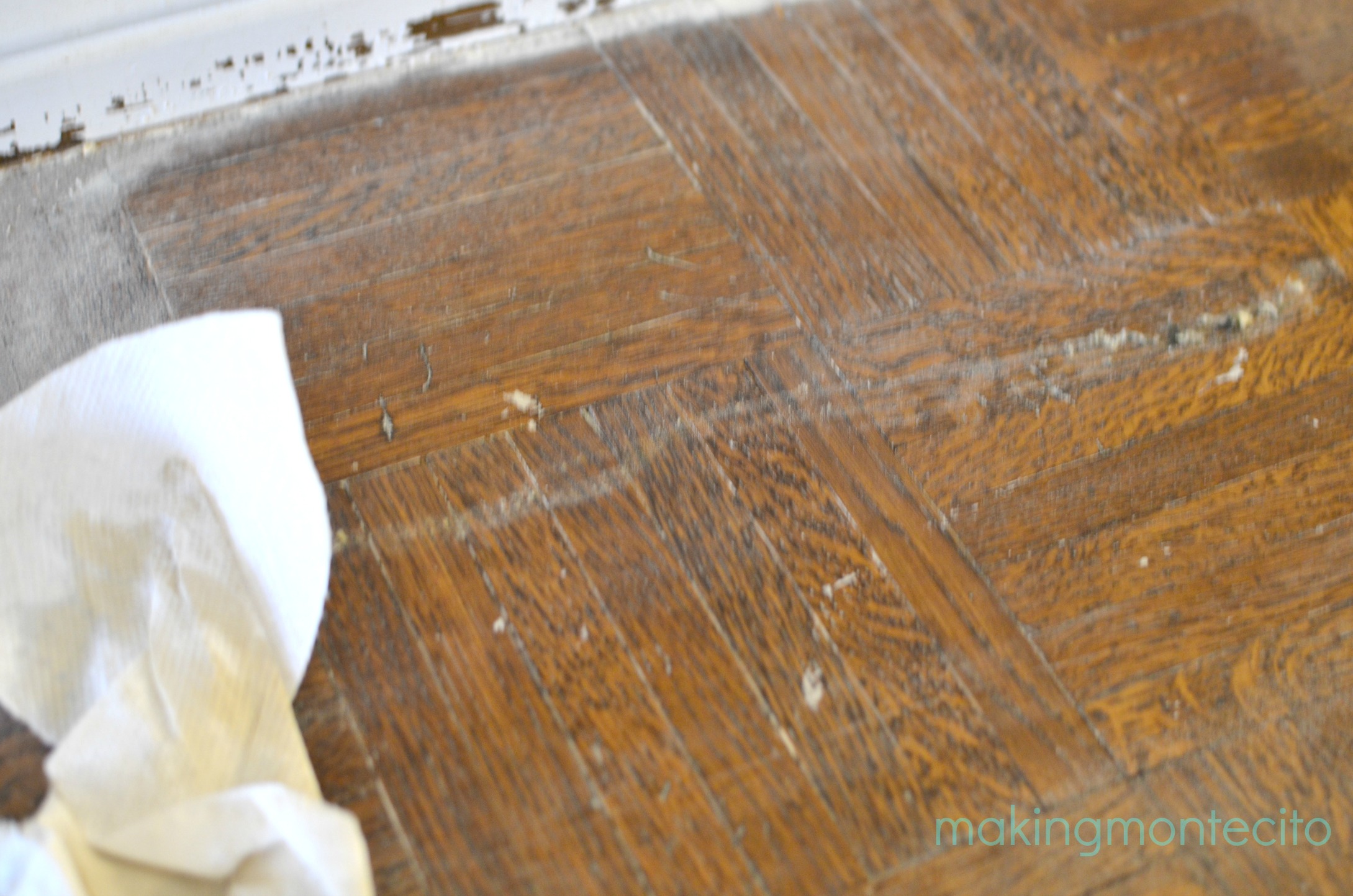 Next spray again with alcohol and this time, go after the paint left in the cracks and crevices with your super cool pink toothbrush — although, I suppose any color would work 😉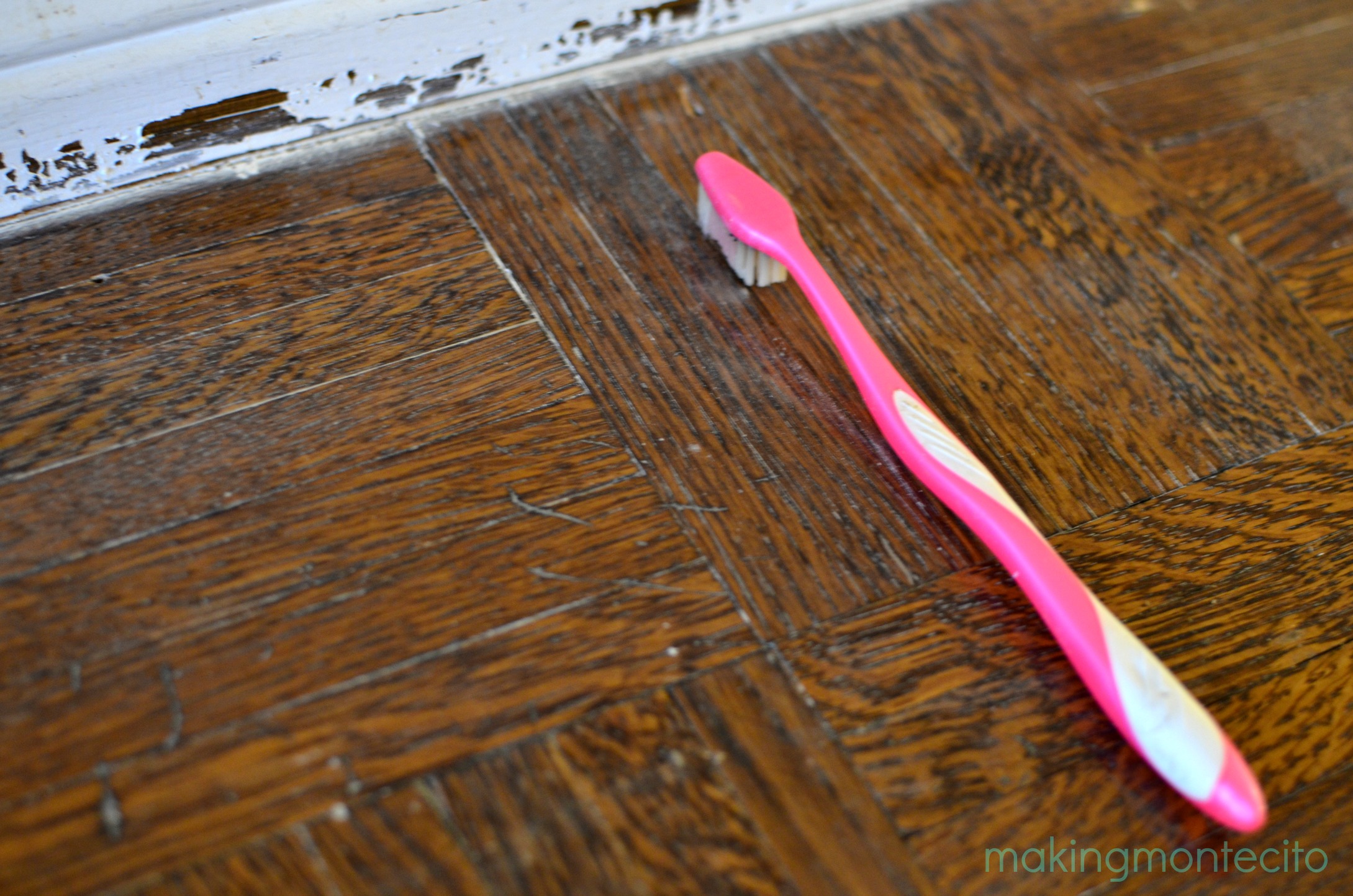 See how well that works?!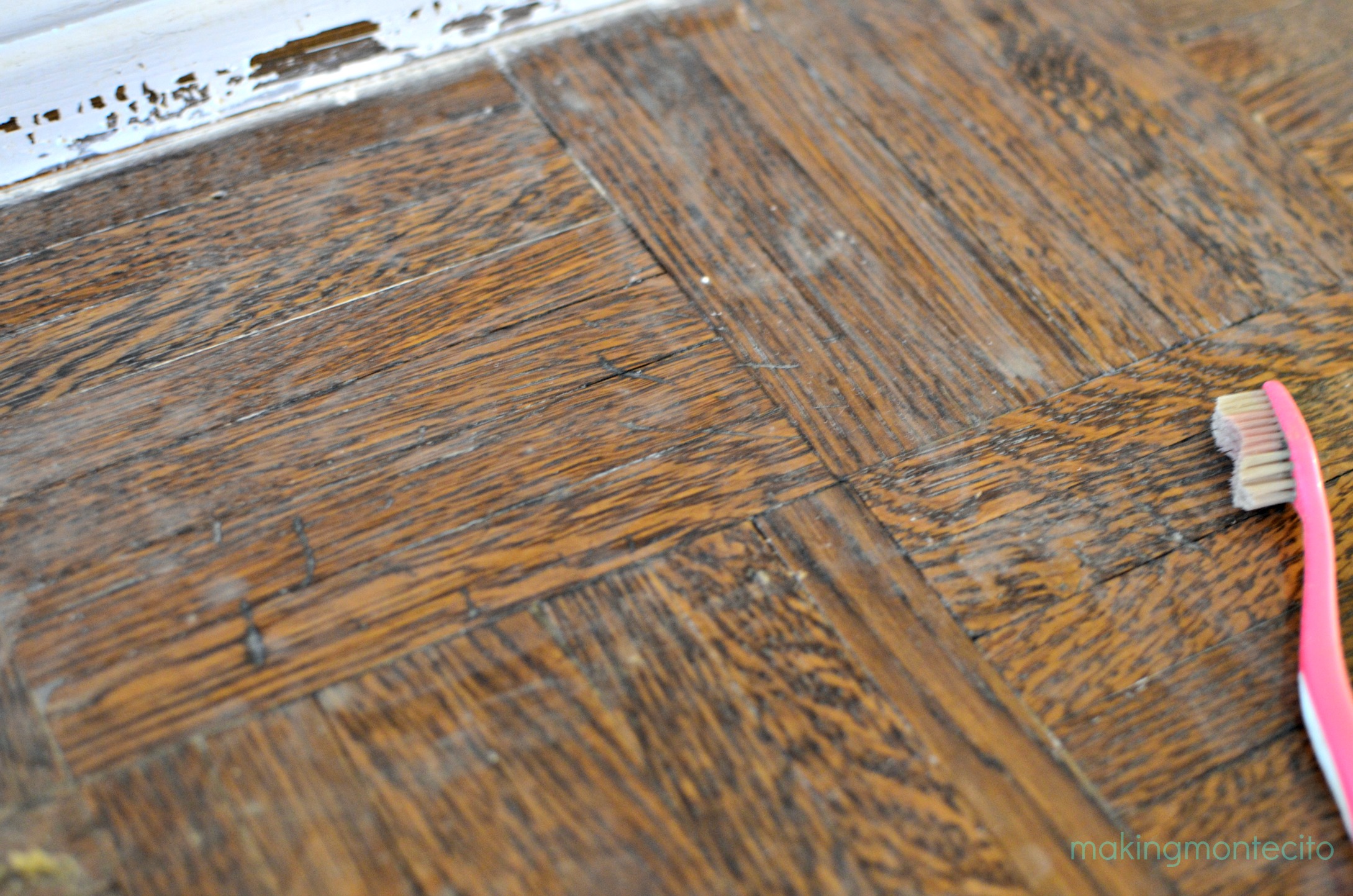 Immediately wipe with a clean paper towel. If you wait too long, the alcohol starts to evaporate and you'll need to re-wet it with another spray of alcohol.
Next I took my putty knife/paint scraper thing and popped off any remaining spray drops. I found it was easier this way when you came to a concentrated area of paint. Any drops just popped off. Just be careful not to scratch the floor. 🙂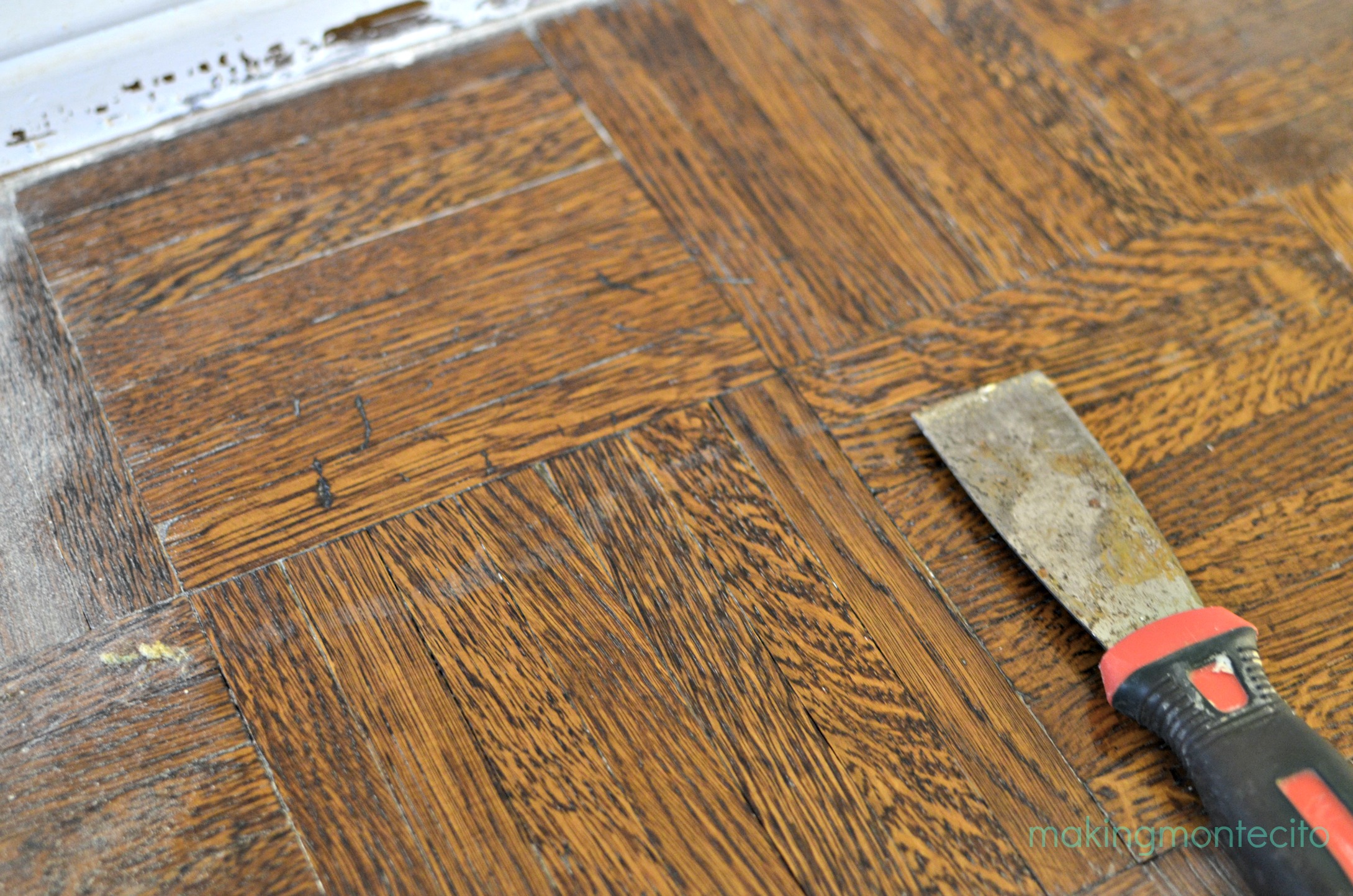 It's really not hard, just labor/time intensive. It took me several weeks to finish the living room working 30 minutes here and there.
Click over here to see the finished floors