Yup. Always.
Rejoice always,

 

pray without ceasing,

 give thanks in all circumstances; for this is the will of God in Christ Jesus for you.  

1 Thessalonians 5:16-18
Now I'm not one to hide my faith, but I'm not also as vocal about my faith as maybe I should be. It's just not my nature. Believe it or not, I'm a little of an introvert. And because of that, I would really hope how I lead my life speaks in greater volumes than my mouth could ever do justice.
This last week we started work on having our roof replaced. (This was from the hail storm that happened waaayyyy back in the spring.) We told our roofer that we were in no hurry. Even though the roof was destroyed in the hail storm, it wasn't leaking. Really, we could wait….and we did. We waited something like 4 months.
And then last week was the week.
August in Texas. It never rains.
Except when WE have our roof replaced.
It wasn't even in the forecast. (Okay, 10-20%, but that almost always means nothing.)
Guess what? It rained. It rained 2.5″ inches coming down at a rate of 9.5″ per hour. I know. Crazy, right?!
So even though the roofers had the Rhino Guard extra-special-something-something covering it up, a gully-washer like that found it's way right into a valley on the roof, and right in to our master bedroom.
For your viewing pleasure…a little picture of our bedroom at 5am (I couldn't get the video to upload).
And the one where it was running down the inside of the wall to soak under the carpet and pad. The tile was the easy clean up.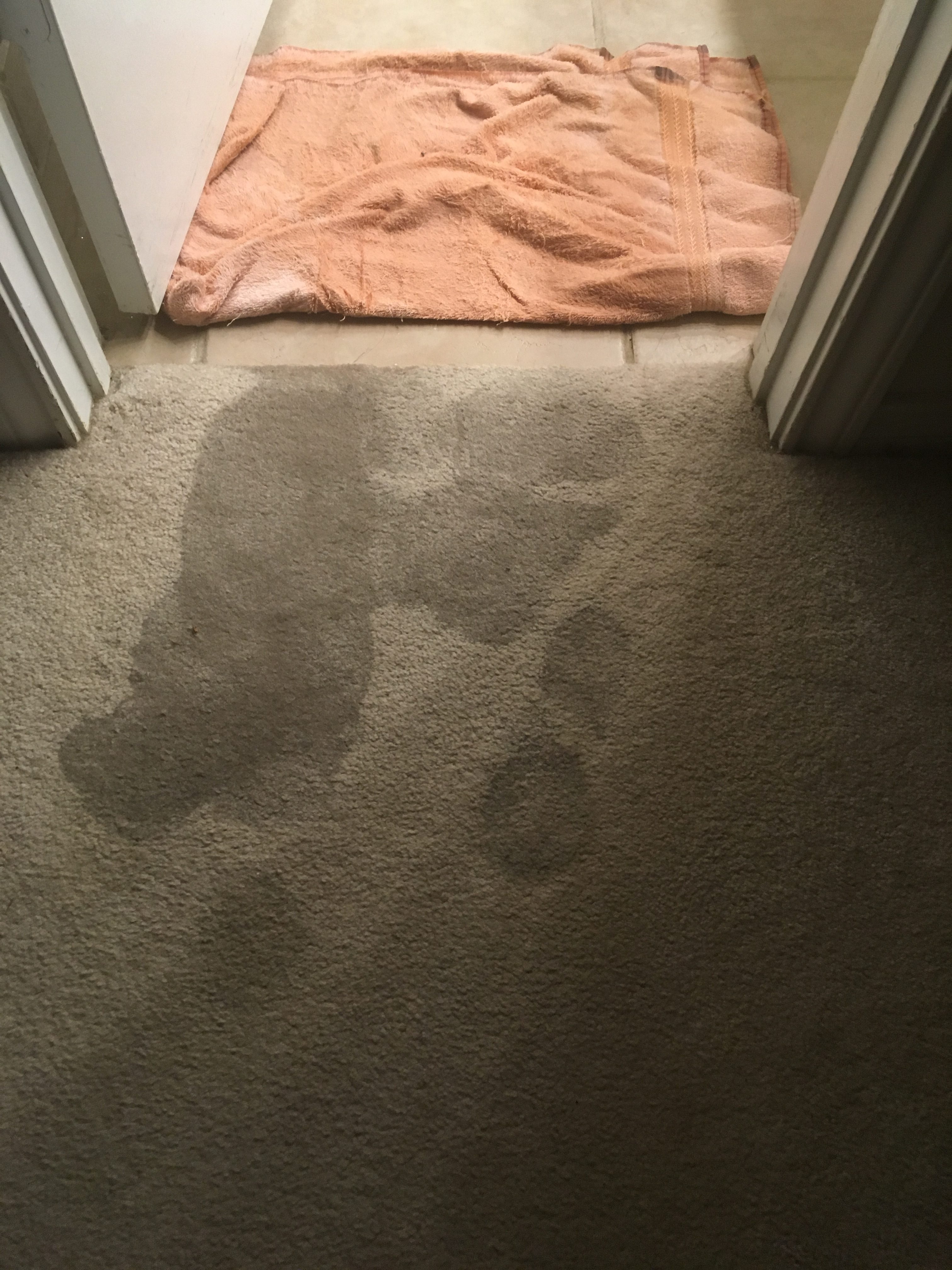 Here's the funny thing. It didn't bother me that much.
Yes, it was annoying. I hate cleaning. I'm lazy.
Yes, it was humid and stinky. Because our ridiculous dog with the bladder/mental issues has had too many accidents on it. (So gross.)
But guess what. It's all fixable. And in all of this mess, I can honestly say, these are just things of this world. Truly. It can all be replaced and fixed, as annoying as it is.
I've heard friends say, "you're handling this so well", and things about suffering and showing our best in trials…. Believe me, I am no super-star-sufferer. I promise.
My sweet friend Kerry keeps kidding my that God is preparing my children for the mission field (you know, having no floor and a roof that lets it rain in the house) and that she NEEDS a picture of them on their first mission trip.
But you know what? This is not what I consider a trial.
All of these things with our house (aka "the MoneyPit") are nothing.
Let me tell you what is….
This summer, I witnessed one of the sweetest mamas ever (and friend) walk through the most horrific nightmare any parent could imagine. The loss of her 16 year old son. I won't go into details, because, really? Do I need to? I can't even imagine her and her family's pain because it literally makes me physically ill to put myself in her shoes.
That, my friends is a trial.
I watched the hand of God hold her up and steady her as she gave her son's eulogy at his Celebration of Life.
That is rejoicing always.
I promise, I have never witnessed something so glorious that made me weep so deeply in my life. I think everyone in that room could almost see Christ standing next to her, keeping her upright, His hands on her shoulders, as she recounted some of the funny things her sweet boy said as a kid. We laughed with her and we cried with her. I'm pretty sure I used a whole package of Kleenex (and maybe a sleeve and possibly the hem of my dress).
Who can do that?! Not me. Not you. Only through the Grace and Fortitude of ONE.
Dang.
….So, there you go. Perspective at it's best….
My house is an utter hot mess. Admittedly so.
Is it built on an Indian Burial Ground, like my neighbor suggested? Who knows…maybe. (Don't judge if you see a dream catcher in my window.)
Are these all just worldly trials until we are safely in Glory? Yes. A great big, fat, ol' YES!
But believe me, I'm looking forward to no more sewer, foundation, roof, and whatever-else-this-house-may-hold-for-us problems.
And until that day, we'll just keep plugging along…..and continue rejoicing in all the things.