I have been wanting to have bees for ages.
Because, like I told Rob, it's almost like I've got nothing else going on and apparently I need one more thing to try to keep alive around here. Ha!
Well, when an awesome local beekeeper decided to hold classes around the corner from our house (versus three hours away), I was super excited and jumped on the bee-bandwagon.
I'm only two classes into an 8 week course, but oh my gosh, it is soooooo incredibly interesting. I can completely see myself becoming a bee nerd. And yes, I am still a little afraid of flying stinging things. But I think there's a lot to just being educated on how to avoid being stung. And a healthy respect for something that stings, is not a bad thing.
It looks like I'll be having some help when it comes to taking care of the bees. She has begged me let her help since she found out I wanted to get bees. (On the other hand, my older two would prefer that I wait until they are out of the house. Teenagers.)
Here's my little beek (kindly ignore the termite damaged wall that we're still trying to decide what to do with in the dining room behind her – lol! Will it become a window bench or full bump out window?? Decisions, decisions!)
She found the XS beesuit I have for her and just had to put it on. I think she's as excited for bees as her mama!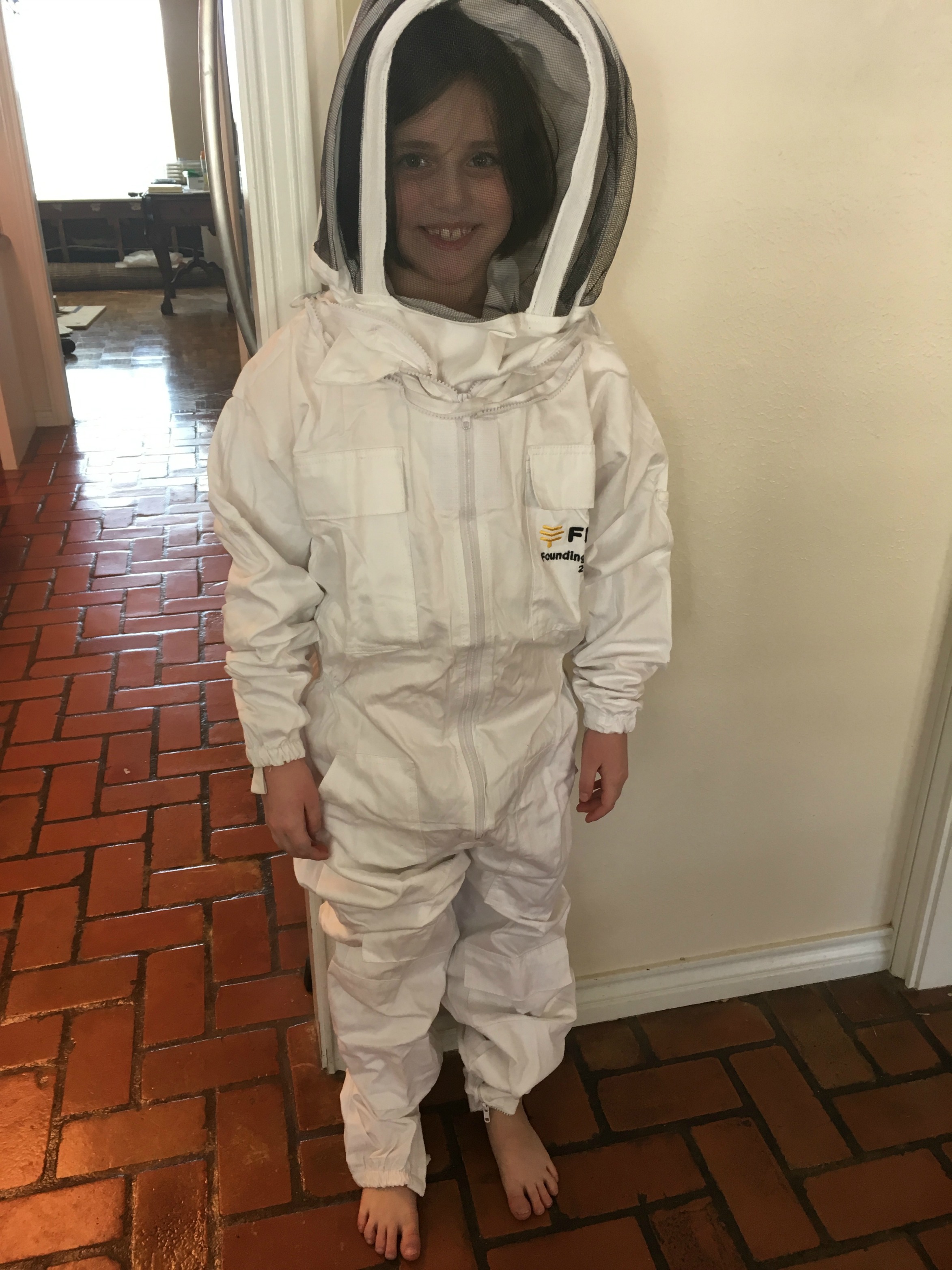 I really hope she sticks with it. I think it's something she could love for a lifetime.
Rob actually bought me a hive for my birthday almost two years ago. It arrived last year (it was one of the new "Flow Hives", so production took a while) and finally this year I'm taking classes (you could say I'm as slow as honey in winter…or not, that's pretty goofy)
Truth is, I just didn't want to rush into it and buy bees before I knew how to properly take care of them. Hopefully, that helps me be successful in my new venture!
I'll post pictures of the hive once we put it together.
Exciting!