It's almost time to plant here in North Texas!
One of the biggest keys to gardening is figuring out what Hardiness or Gardening Zone you're in and when the best time is to plant for your area. And one of the best resources for figuring out all stuff plant related here in Texas is the Texas A & M AgriLife Extension. This is what they do all day long. You can bet that I'm going to trust them over most other information sources (i.e. all the pins/cool graphics on Pinterest that say this is when you should plant, but they don't tell you for what zone.)
Why is this so important? You can plant a tomato plant in May or June here in Texas and it will live as long as you're watering it. Problem is, it won't have time to set fruit before it gets too hot here. So basically, you won't ever get tomatoes. And honestly, I don't care too much to have things growing in my garden that aren't producing. Slackers.
Below are the graphics and links to A&M's page. If you live in Texas, you can see what Zone you're in to figure out your planting dates. If you're not in Texas, you can compare your USDA Hardiness Zone to the different Gardening Regions here in Texas to make the correlation (if your city falls into USDA Zones 6 through 9b.)
 Source: Texas A&M AgriLife Extension
Here in North Texas, we fall into Gardening Zone III, which is kind of crazy since this zone also includes Austin, Waco, San Antonio and Houston. You can also see that translates to generally USDA Hardiness Zone 8.
Texas Gardening Zones
| | | |
| --- | --- | --- |
|    Texas Gardening Zone |    USDA Hardiness Zone |      Avg Minimum Temp |
|                  Zone I |                     Zone 6 |                -10 to 0 F |
|                 Zone II |                     Zone 7 |                  0 to 10 F |
|                Zone III |                     Zone 8 |                10 to 20 F |
|                Zone IV |                    Zone 9a |                20 to 25 F |
|                 Zone V |                    Zone 9b |                25 to 30 F |
Refer to the USDA Hardiness Zone Map to compare the temperature extremes in your area to those of the Texas zones when making planting decisions.   Source: Texas A&M Agrilife Extension 
As far as when to plant what, here's a link to the TAMU graph for spring planting for all the Gardening Zones in Texas. I made the chart below to single out Zone III, since that happens to be my zone (and according to A&M, several other large cities in Texas.)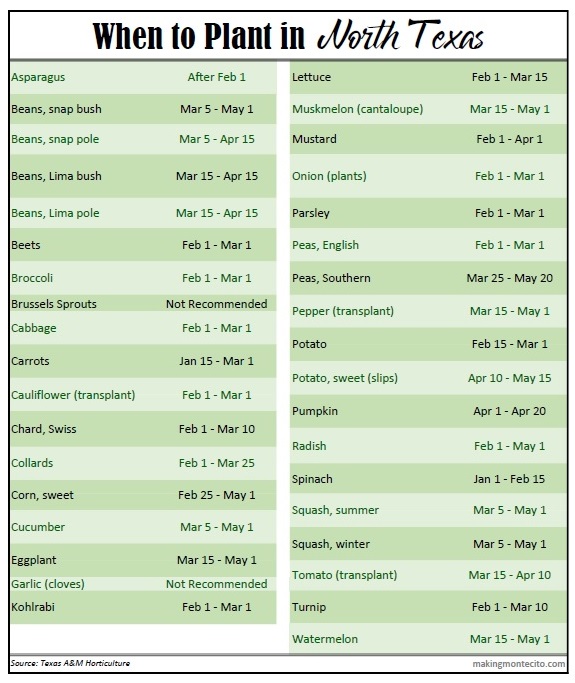 If you have a little time, I highly recommend just digging around on A&M's gardening website. They are a serious wealth of information. I'm always jumping on there when I have a gardening issue or question.
Happy planting!