What ever happened to writing your name on a bag for everyone to put a paper Valentine in when we were in grade school?! Okay, me calling it grade school probably shows my age.
These days, school Valentine's are some serious business where my kids go to school. I think it's probably because they really get to express themselves and their personalities in this. My kiddos wear uniforms to school, so they can't express it that way and all the teachers request the same types of school supplies, for the most part (who didn't love their Trapper Keeper?! Age thing again…)
I seriously don't mind it. I'm sure some parents think "ugh, another project???" One of those mom's at our school, whom I adore, had the right idea when she got to the "I can't even" point. She let them all pick out pinatas. Pure genius.
We went pretty simple this year.
Here's Caroline's wedding cake box. Seriously simple. Wrapped 3 boxes of various sized in white paper, stacked them and decorated with streamers, leftover plastic flowers from some other project and sticky hearts.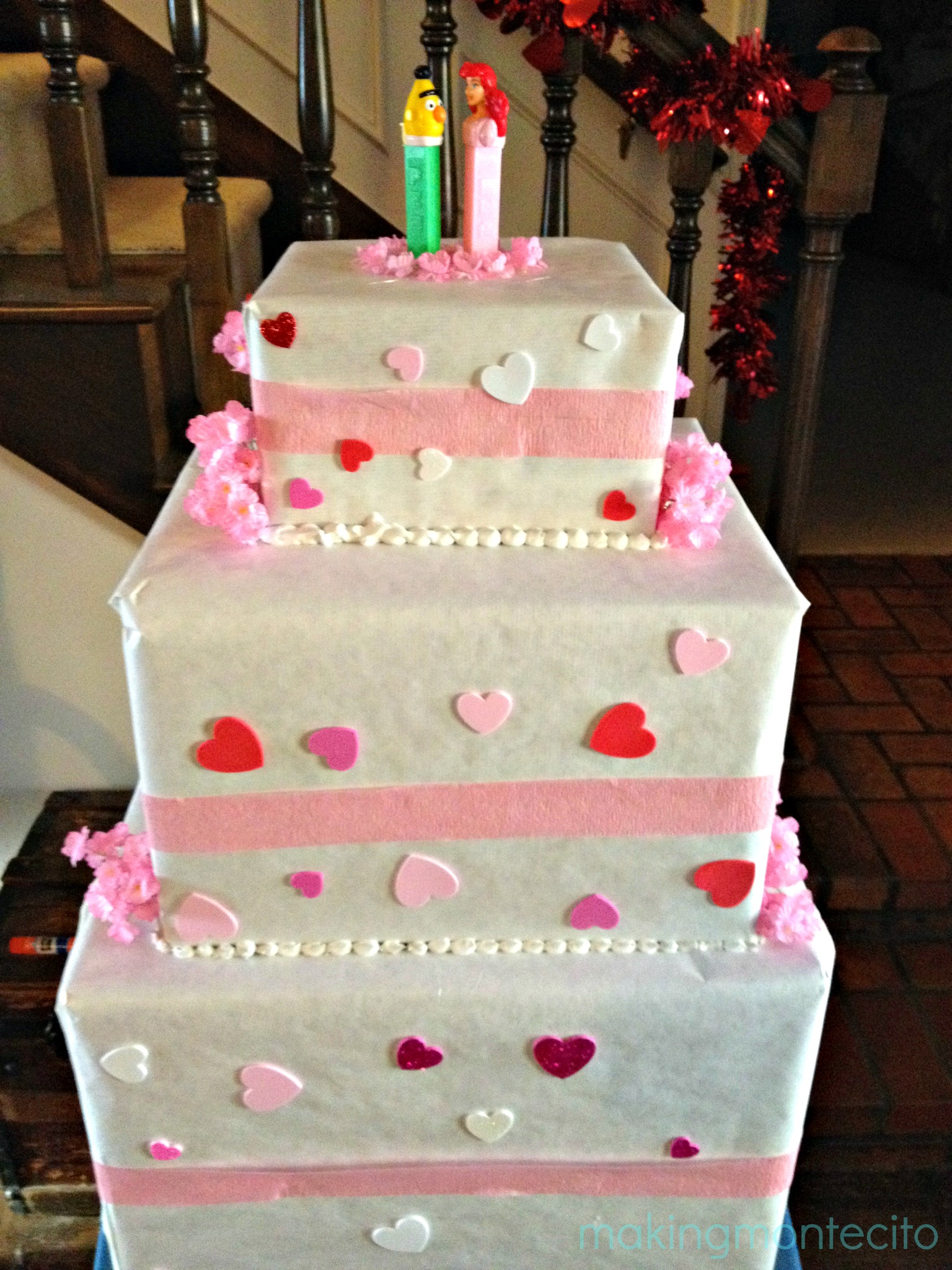 Barbie and Ken were going to be the wedding topper, but I didn't have the brain power left to figure out how to make them stay on top. We went with the unexpected couple – Ariel and Burt Pez dispensers. I love it! (She also drew me a little picture of what she thought their babies would look like — it was hilarious!)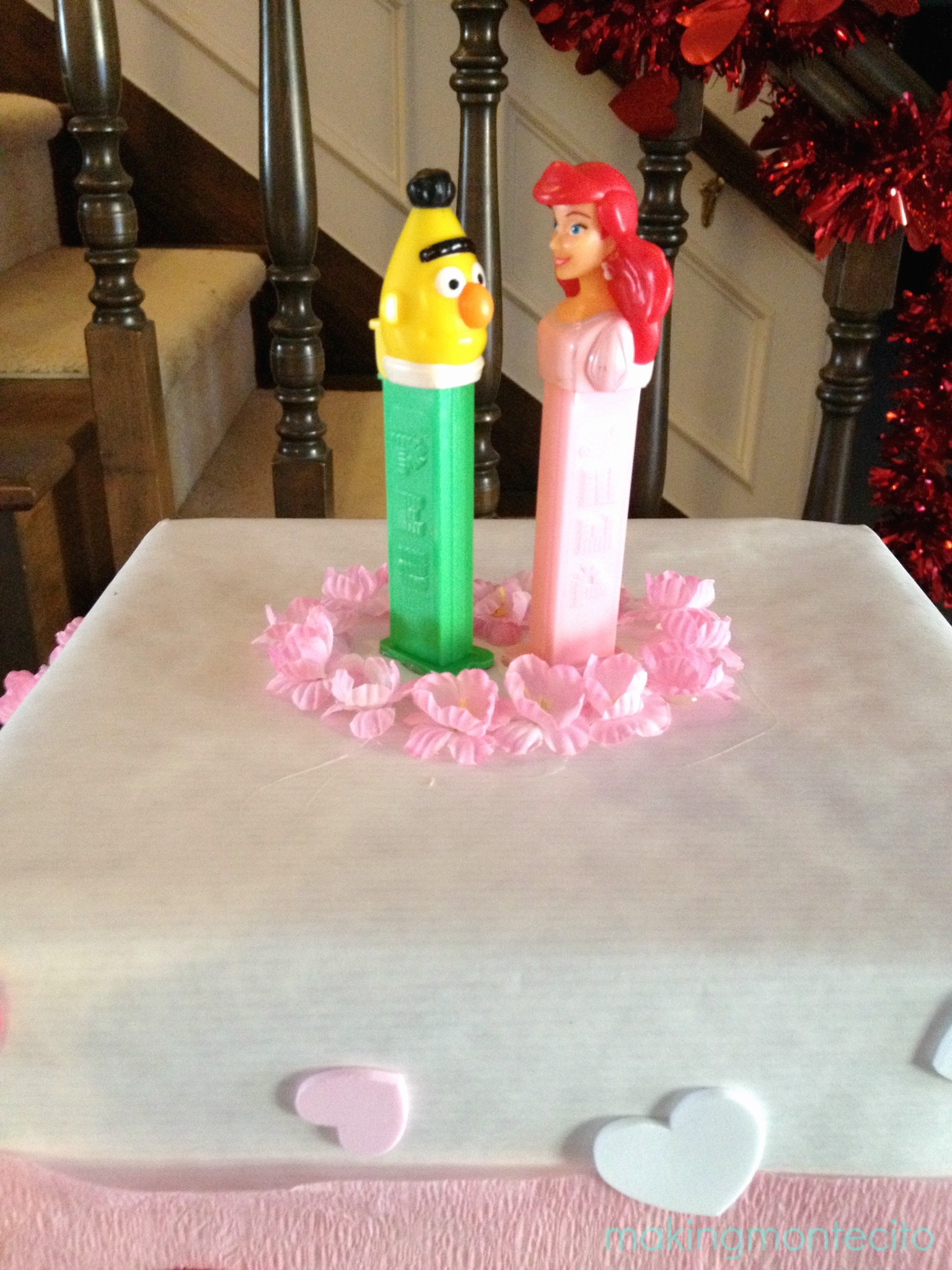 This is Camille's last year to make Valentine's boxes, but she still wanted to keep it simple. She wanted to go with a Cookie Monster theme — she and her 'tween friends are thinking he's retro-cool this year. 😛
She used one of those round cardboard boxes (I think Hobby Lobby usually has them — we had one laying around here) and we bought about 1/2 yard of blue fuzzy fur like material at JoAnn's (with a coupon, of course) and a couple of Styrofoam balls. It was super easy to wrap and hot glue the box. I also cut out little circles of black fabric for the pupils and hot glued those as well.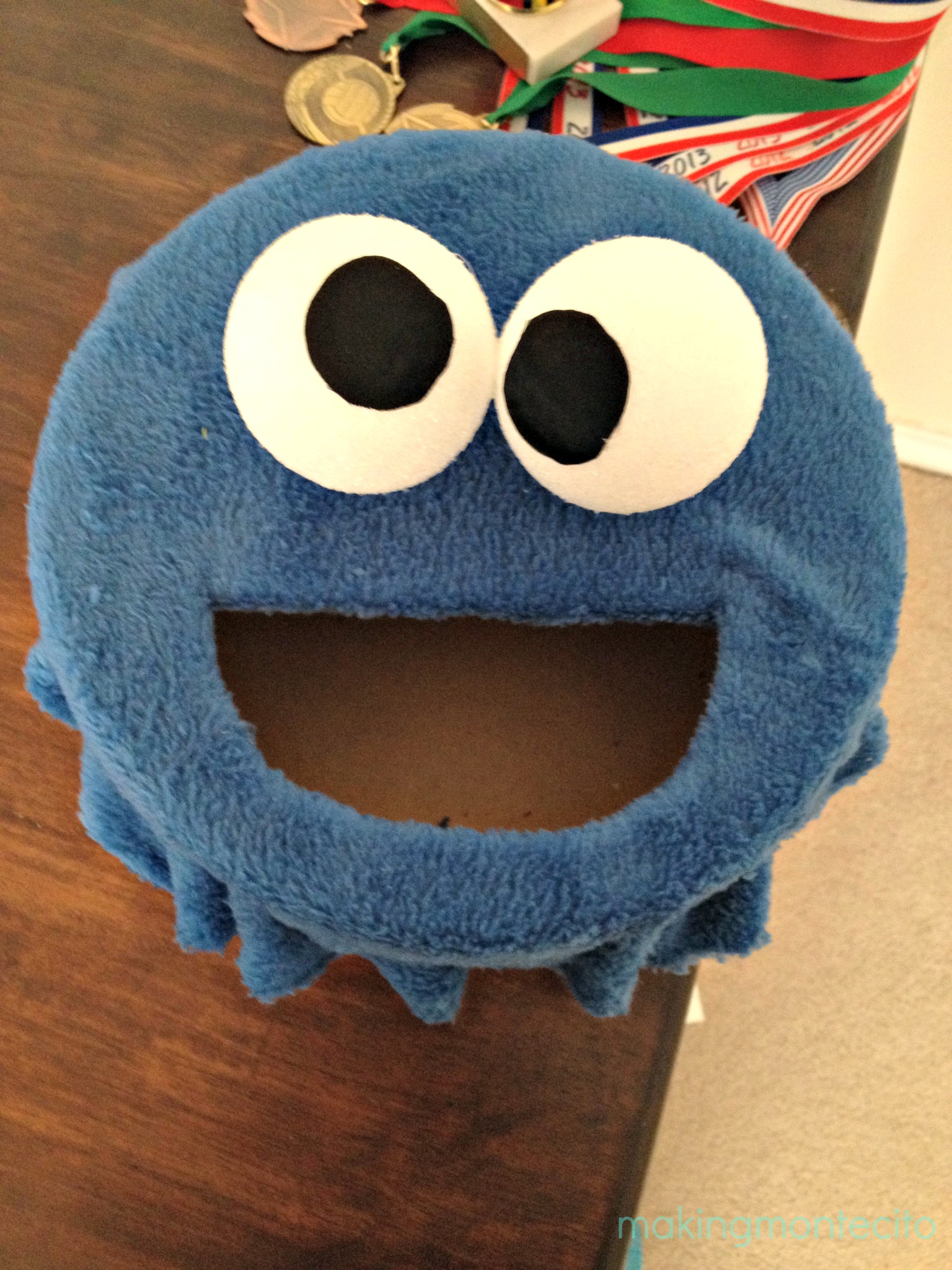 Her Valentines to her friends followed the same cookie theme (and Caroline decided she wanted the same for her friends, so she did the same thing.)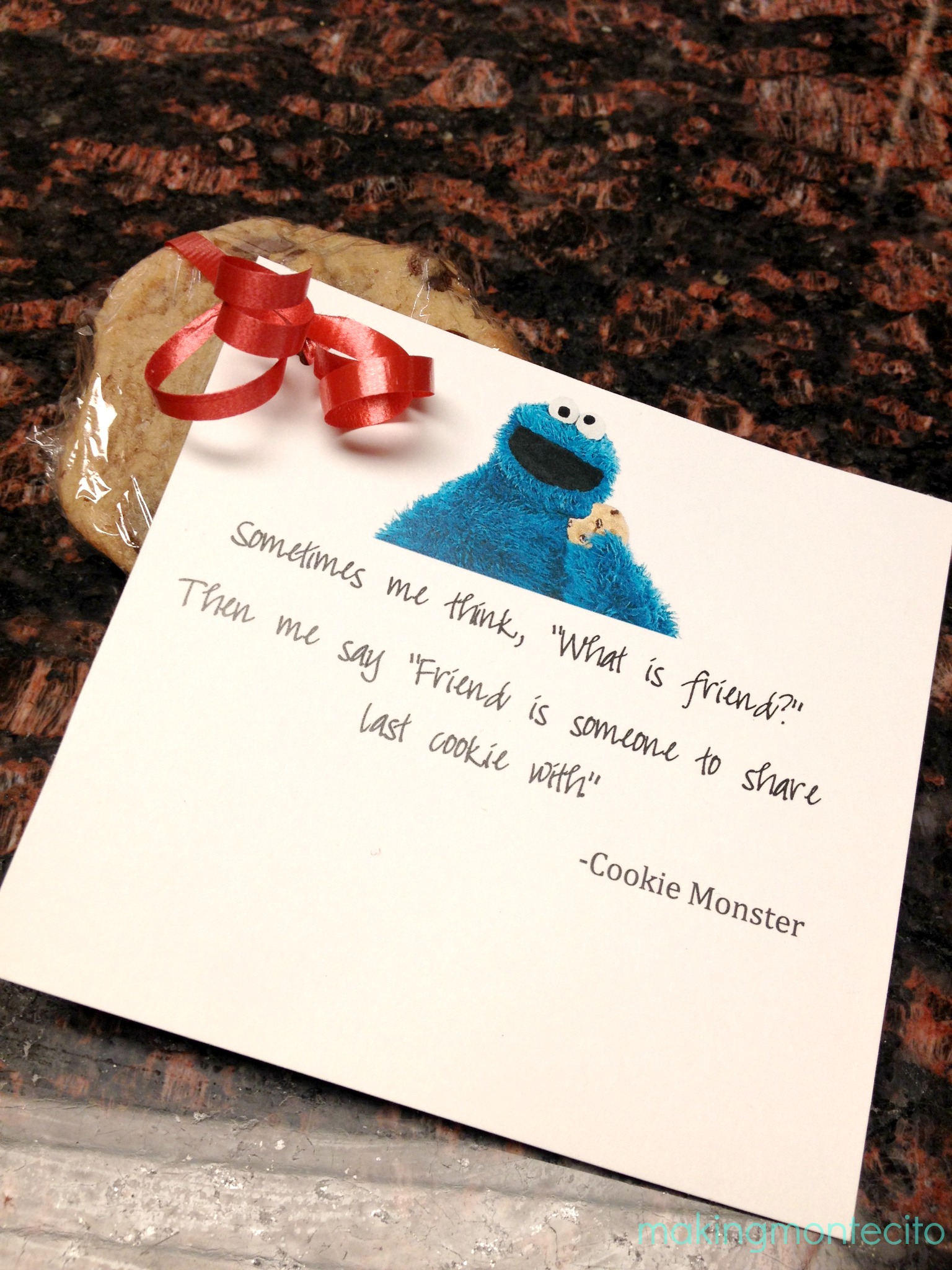 It was super easy to make. We copied a picture of Cookie Monster into a label template and picked out a cute font for his quote and then printed them 6 per page on cardstock. We made homemade chocolate chip cookies to go with them, but if you're in a school that doesn't allow home-baked goods, you could do little packages of Chips Ahoy or similar.
All their friends loved it. And I loved that it wasn't a sticky candy.
The following are just some of the cute Valentine's boxes from the other kiddos (and my horrible iphone photos.)
And last but not least (if you're still scrolling through), the office staff comes up with the best "awards" for each of these. Cookie Monster got "Most likely to eat your candy" and the wedding cake got "Most Delicious".
But my favorite award went to this guy (he was one of the pinatas)…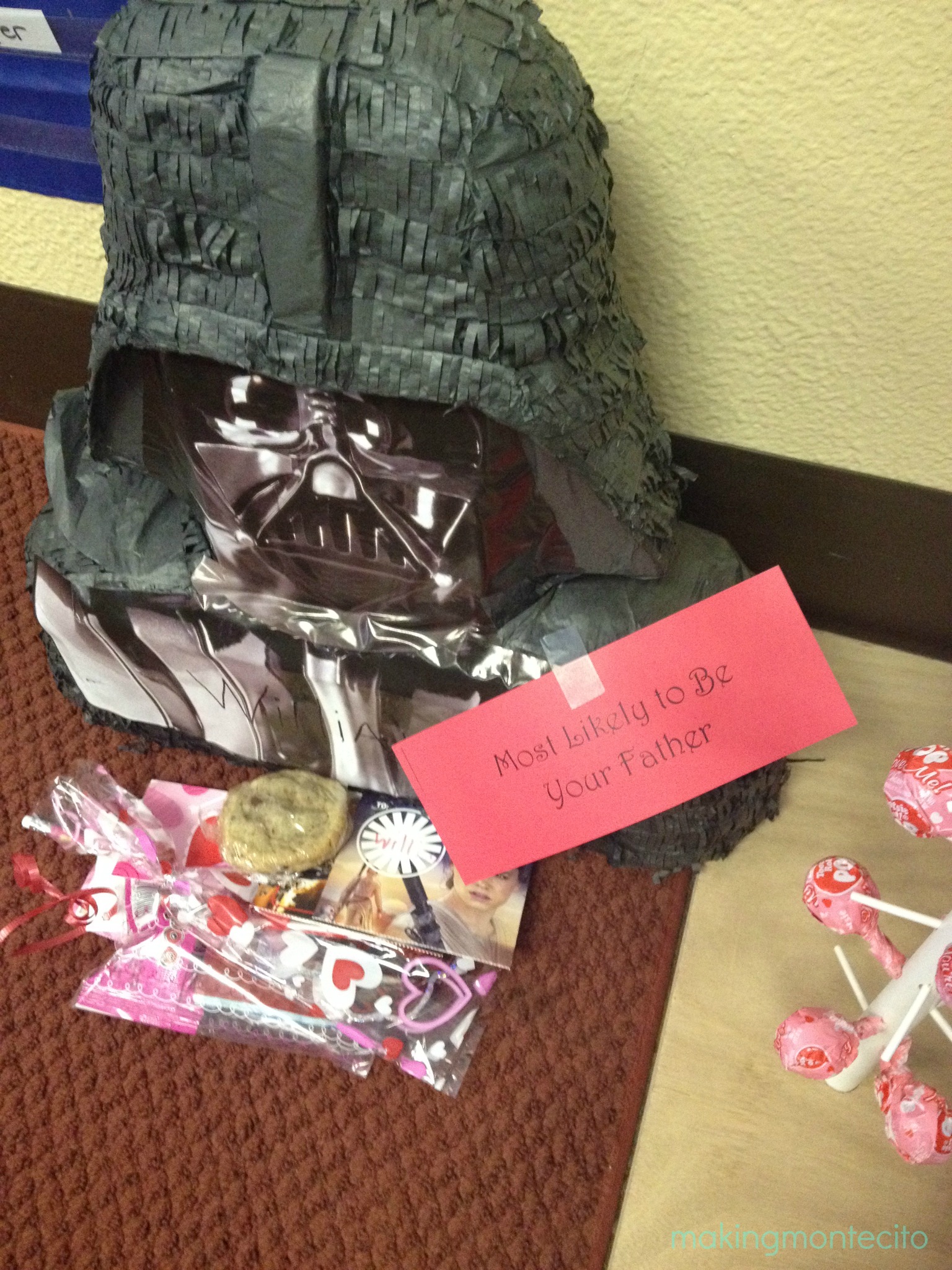 It still makes me giggle reading it.
Those ladies in the front office are hilarious and really make these kids' day by doing this. They all can't wait to see what "award" they got!