Jesus take the wheel.
You all, I can't even begin to explain it. What kind of crazy juju is going on with this blasted house?
Wednesday afternoon I thought I heard our recirculating pump kick on for the tankless hot water heater and then not turn off. I thought well, I'll call the plumber in the morning and have them come look at it. It should be under warranty, no big deal.
Guess what? I woke up Thursday morning to discover that noise I heard was actually whooshing water from a pipe breaking under our slab. So this is what slapped us in the face first thing Thursday morning. And yes, thankfully we still don't have flooring in here.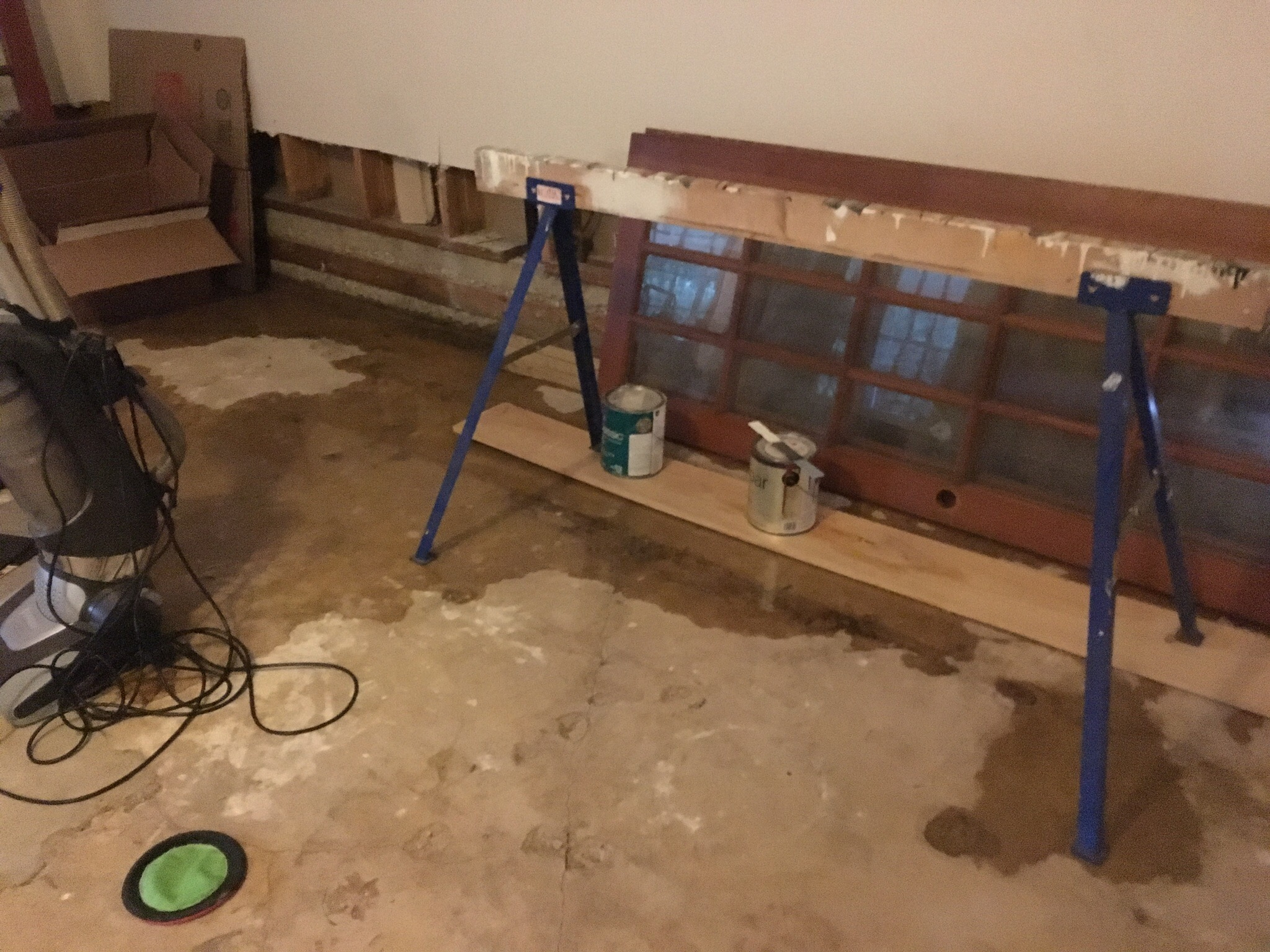 Side note: would you look at that glorious pile of free wood chips that will some day be spread throughout the yard? We're slowly chipping away at it. (Sorry, I'm feeling a little "punny".)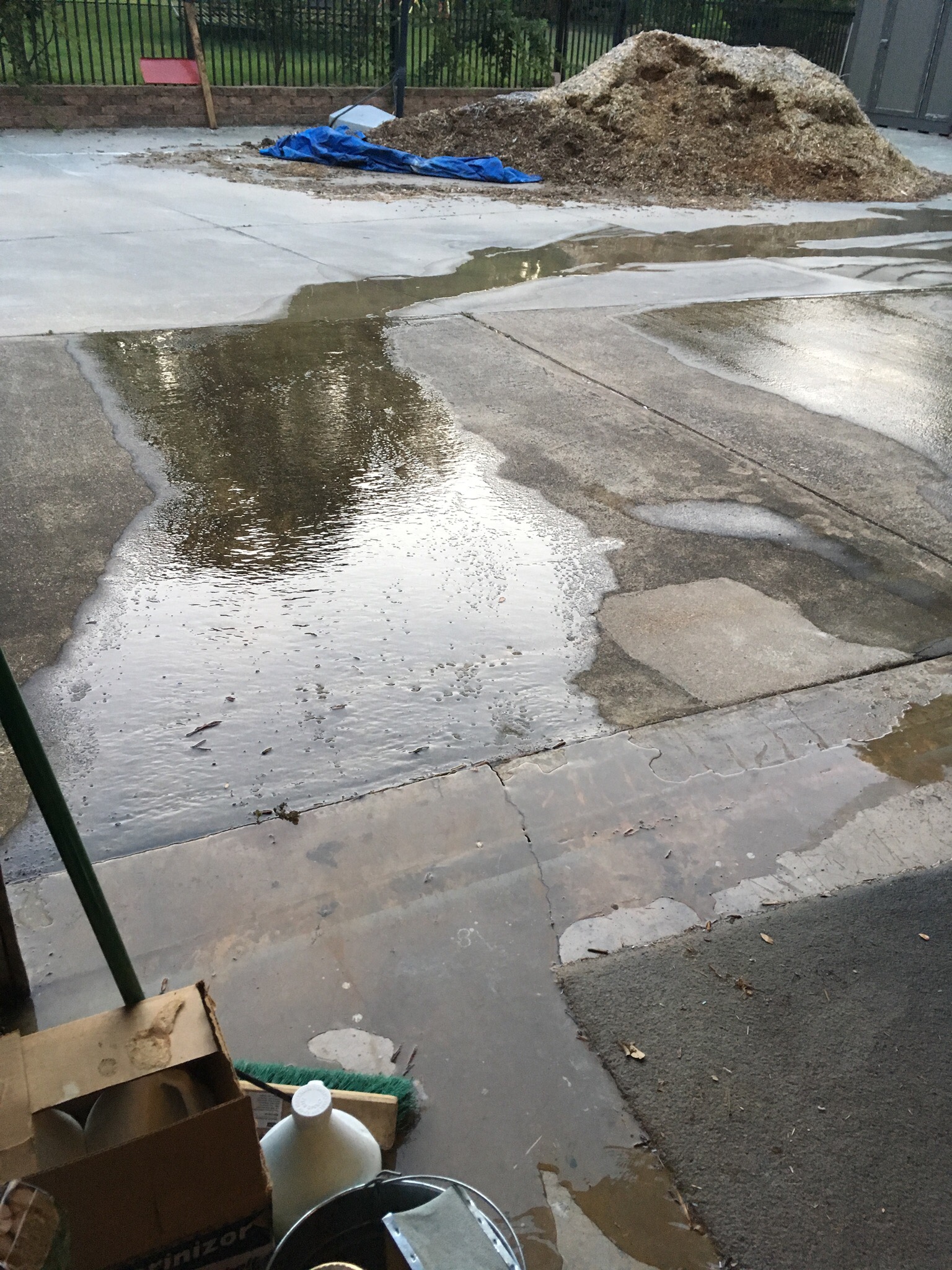 Can you see it coming up between the cracks??  Ugh. It's weeping. Like our bank account.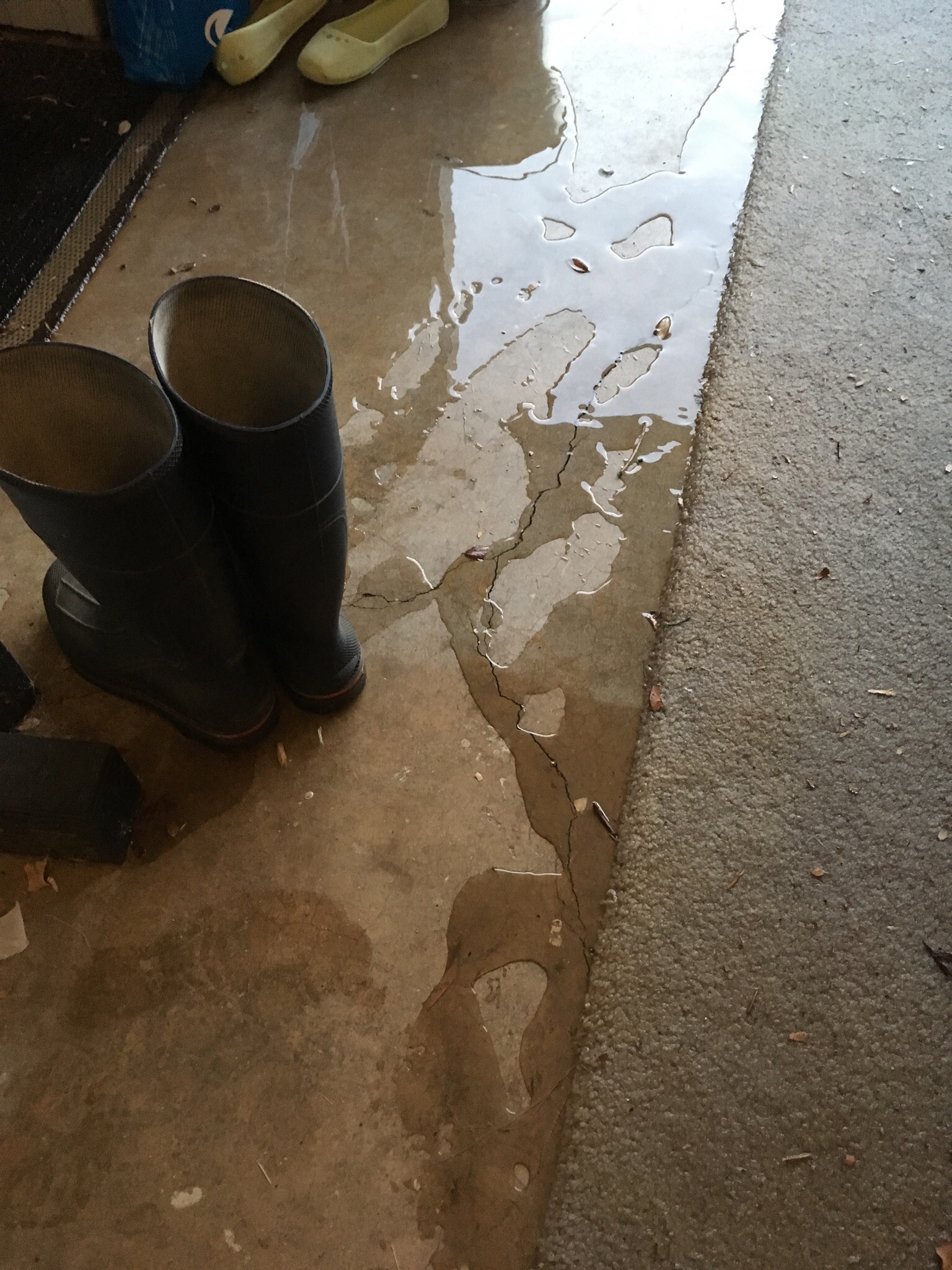 Rob was thankfully here and quickly shut off the water at the street. A quick text to the owner of the plumbing company (yes, before 7am…I'm kinda her favorite customer now) and they were out by noon to assess the situation and narrow down where it was coming from.
Turns out it was so loud the leak detection guy didn't need his fancy headphones to hear it (although his equipment did tell him how many decibels each pipe was at to determine the location).
They returned on Friday to punch a hole in the concrete to make as he put it, a "quick fix". (We will eventually redo all the pipes with pex to hopefully avoid this kind of thing in the future, but not on this paycheck.)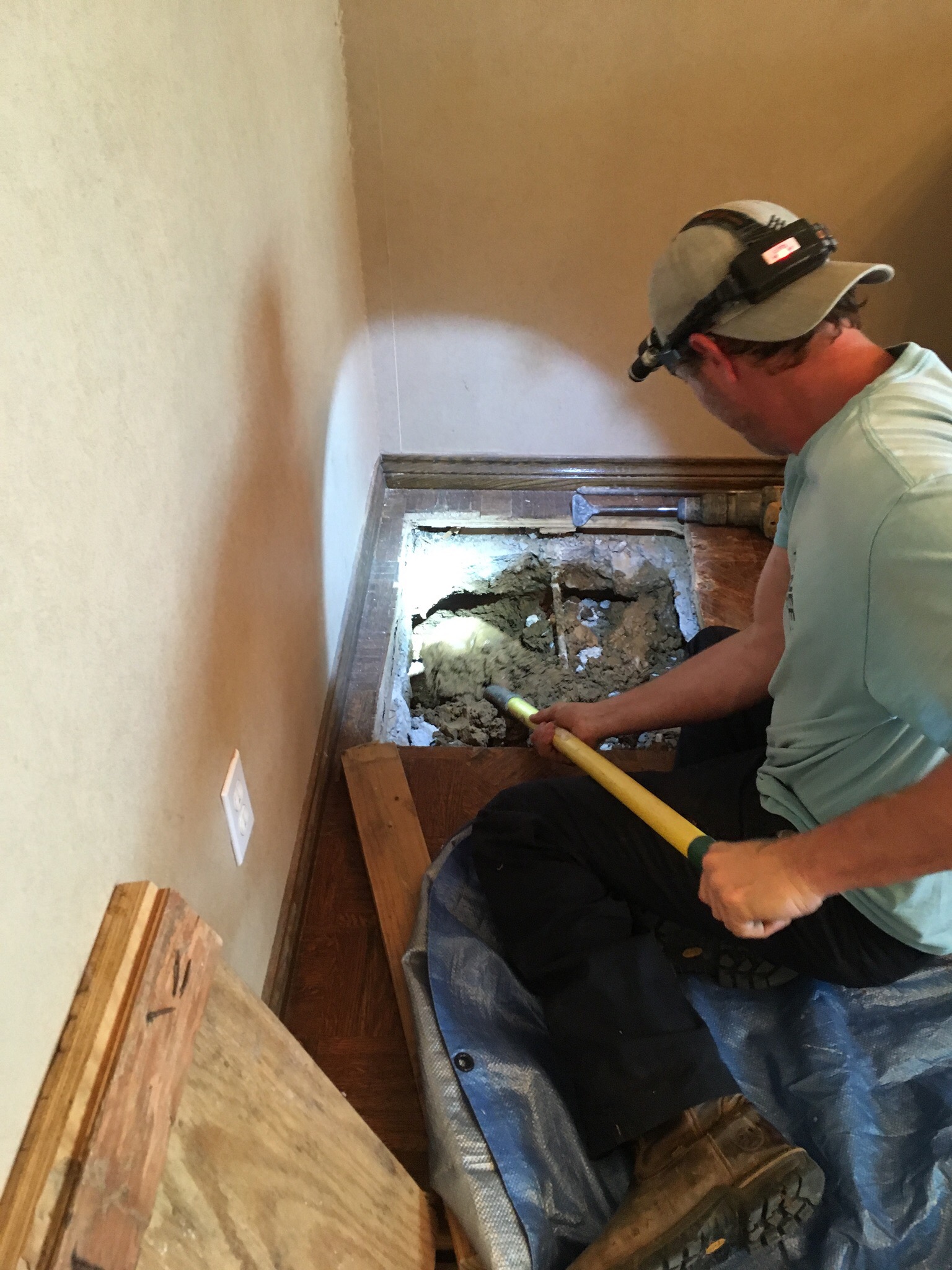 Poor guy. He's new to the company and doesn't know our house. There are no quick fixes.
So this started…
And he quickly realized that leak is somewhere along that concrete structural beam.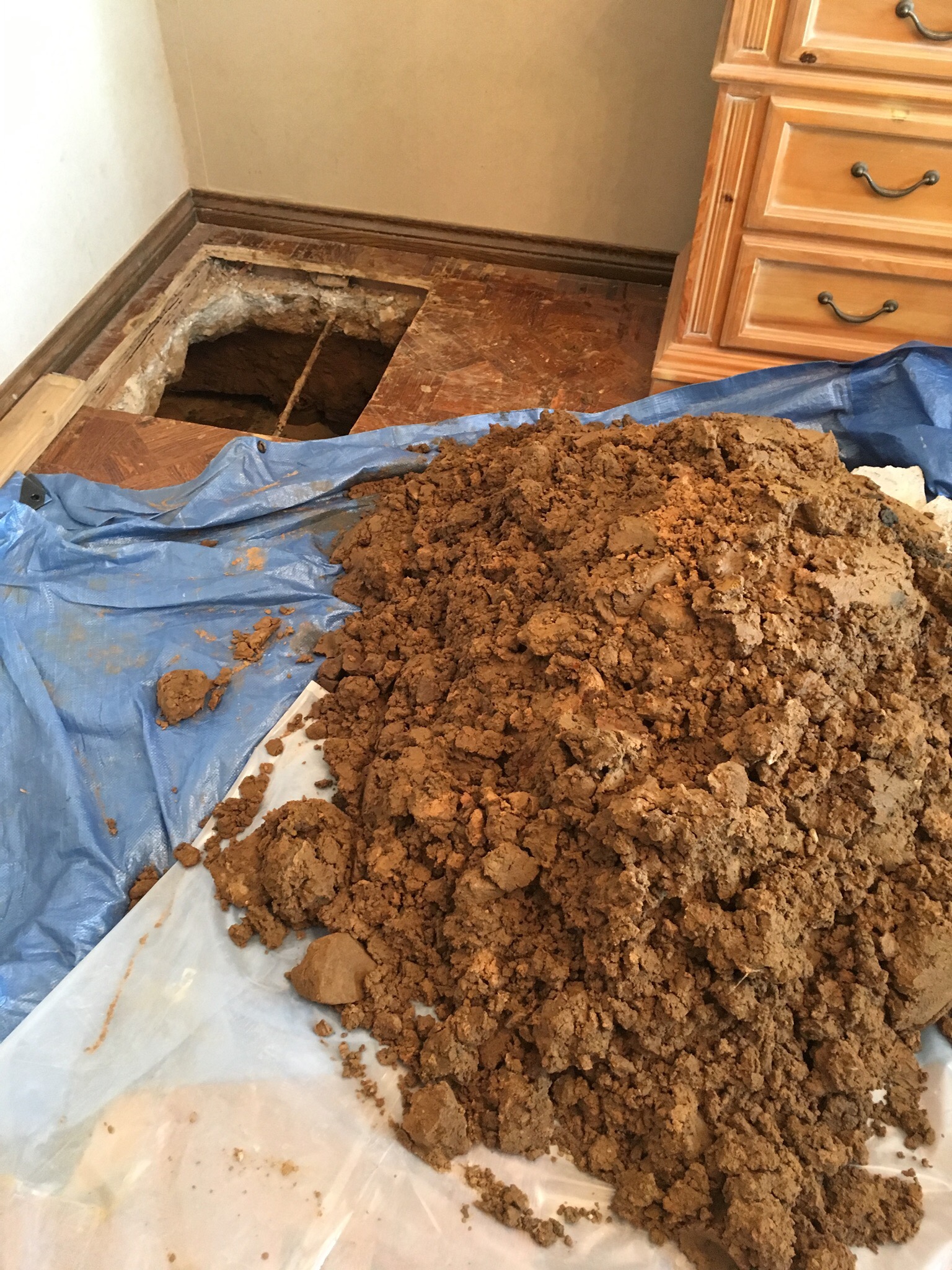 So after paying for a plumber to dig for half the day, (insert very big eye roll) it was determined he really needed an excavation team out here. Professional diggers, if you will.
I've said it before and I will say it again. There's money in digging holes…or at least owning a company that digs holes.
So this morning, bright and early they showed up to take what I already thought was a big hole and pile of dirt, and turn it into bigger ones.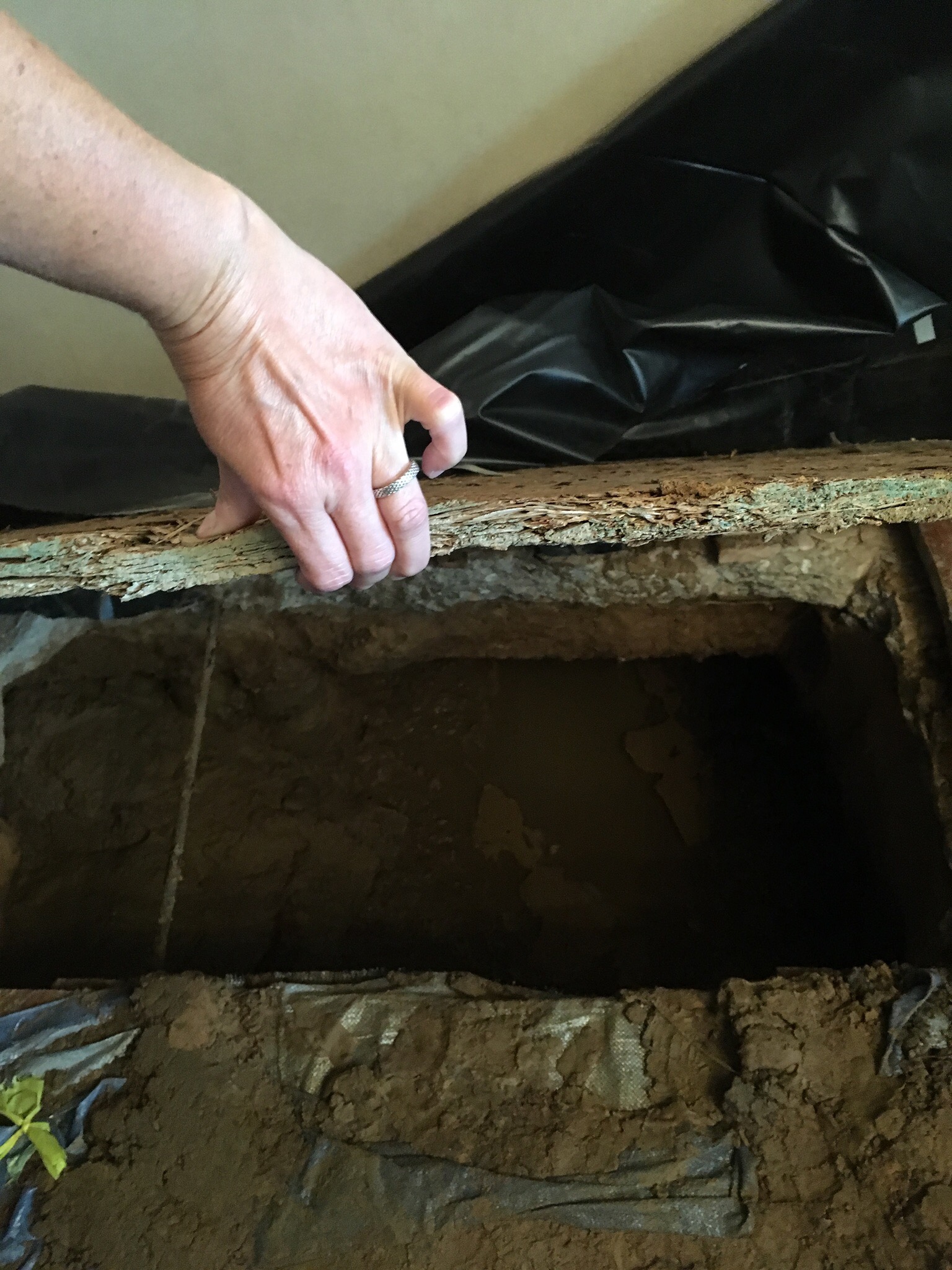 First off, ignore the weird chicken claw I call a hand. Then take a look at the relationship of the tension cable in the slab in this hole compared to the first hole. It's at least twice as big.
And the pile of dirt? It's huge! We could totally do motercross in my dining room. Maybe that's how we'll pay for this.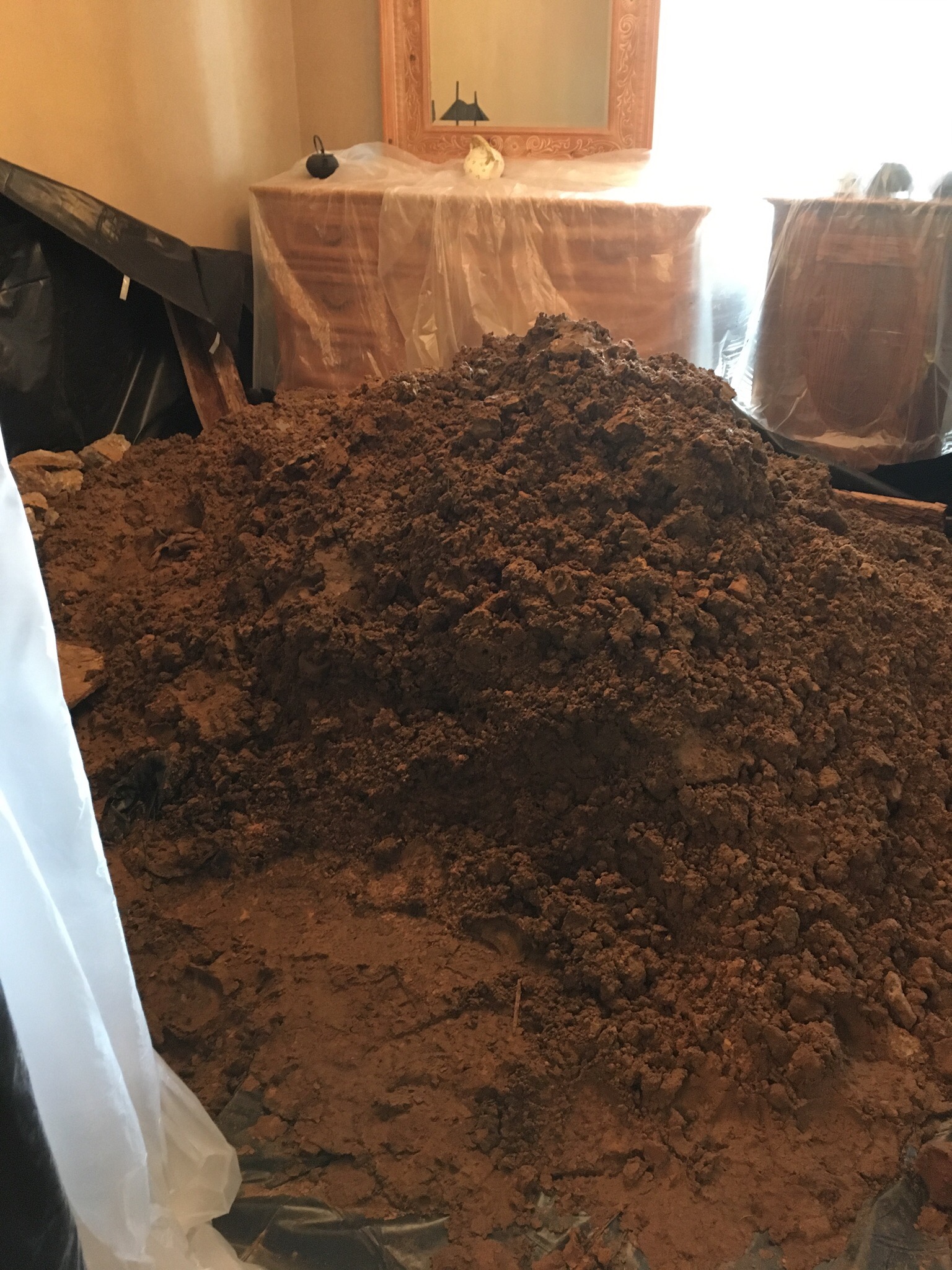 So now the professional diggers are gone for the day, we wait until Monday to see if they can find and repair the leak.
No water until at least Monday, if they can fix it then.
Showers at the neighbors.
No dishes, so the kitchen looks like a pack of frat boys live here.
And no laundry. Sorry teachers, my kids clothes will be wrinkly and most likely smelly next week, because their version of a closet is the horizontal surface they walk on. (They could at least have the decency to use a "chairdrobe" like their mother. Have I not taught them anything?! For the love.) We will not even speak of the volleyball practice clothes.
And flushing the toilets with buckets of pool water.
Dang. Redneck village.
Turns out this is the version of a "quick fix" that exsists in our alternate universe, on our lot along Montecito.
Probably words I've never uttered before, but… I can't wait for Monday!