We moved into this house just over 2 years ago. At the time, we thought we might have a little foundation work to do in the dining room. We called it the "fun house" room. You could walk in and feel just a little off. Honestly, the thought of a little foundation work really didn't scare us. If you live here in Texas, you quickly find out the expanding and contracting soil + a slab foundation don't make for very good friends.
When I was in commercial real estate, I remember one of the teachers in a class I was taking joked about "if you live in Texas and your house doesn't have foundation problems, you just haven't lived there long enough."
We figured this would be a simple enough fix. A few piers under the dining room, we're good to go. We looked all through the house for signs of movement. Cracks in the drywall, above windows, the floor. Everything we saw was very minimal. It really looked like the house had shifted maybe shortly after it was built (1971) and just kind of sat that way since (we even had a foundation company come out during our inspection period — they thought the same thing.) Boy were we in for a surprise!
We decided to live here and restrain our DIY ambitions for a year to see how the house "lived." You know, after you live somewhere for a while, certain things you'd like to change become obvious. Well, I can tell you one thing that became obvious. Every crack the previous owners had fixed, opened up. (We now joke that they had to be fixing these cracks on a daily basis.)
At this point we had the foundation company back out and sure enough, the house had moved another inch — and between the structural engineer and the foundation company's findings we needed 55 piers! Ugh! We decided we needed to get moving on this, as fast as possible.
Of course, those of you here in Texas know how much it has rained this year. I keep expecting Noah to show up and ask for two of all my animals. Well, we scheduled it out and a break in the weather finally came.
And here we are, getting everything covered. (Oh, and did I mention we'd be living here throughout this whole week?)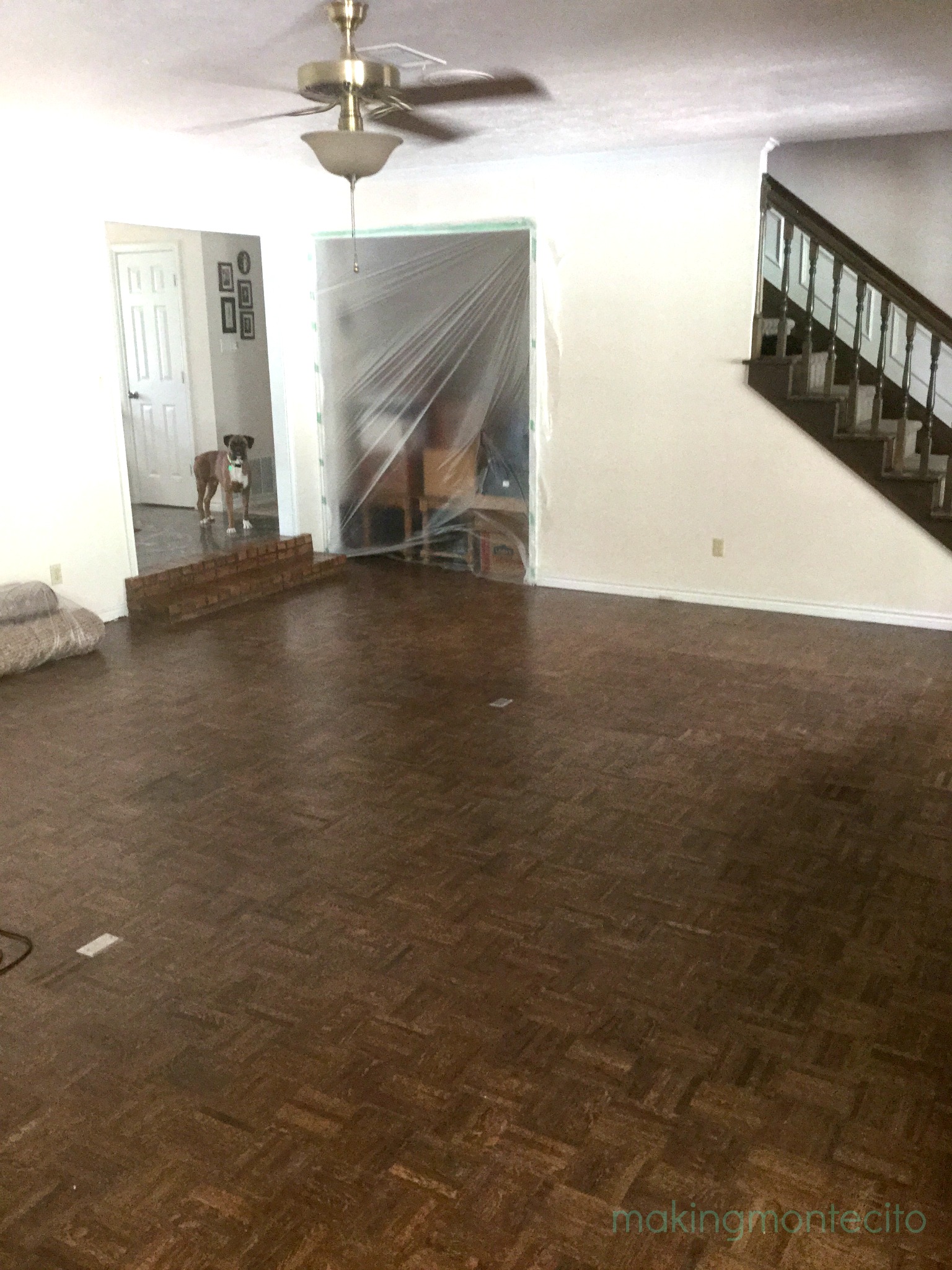 And then it began.
Remember the floors I took forever to remove the paint from? Destroyed. Seriously, these pictures make me want to cry big ole crocodile tears.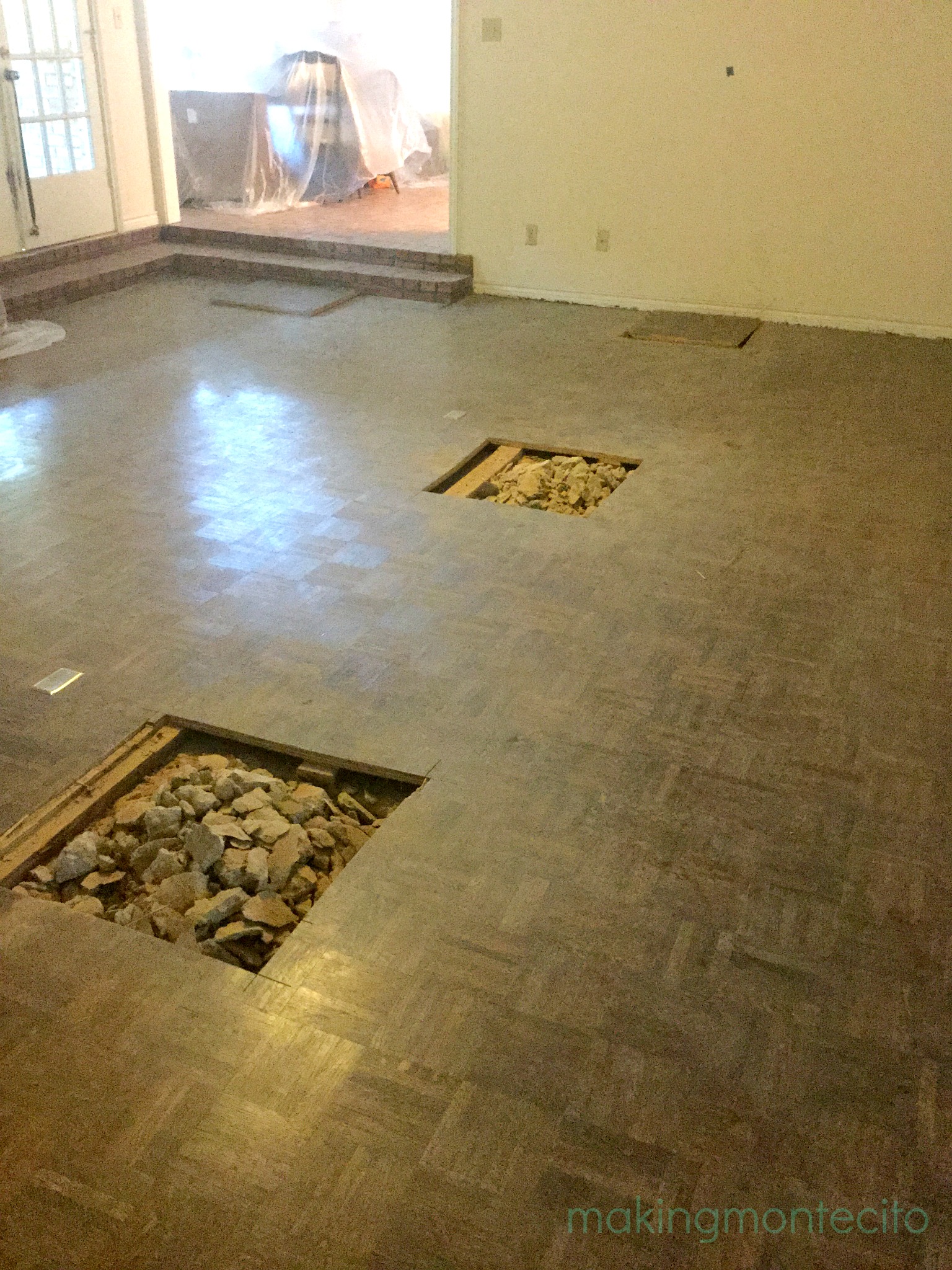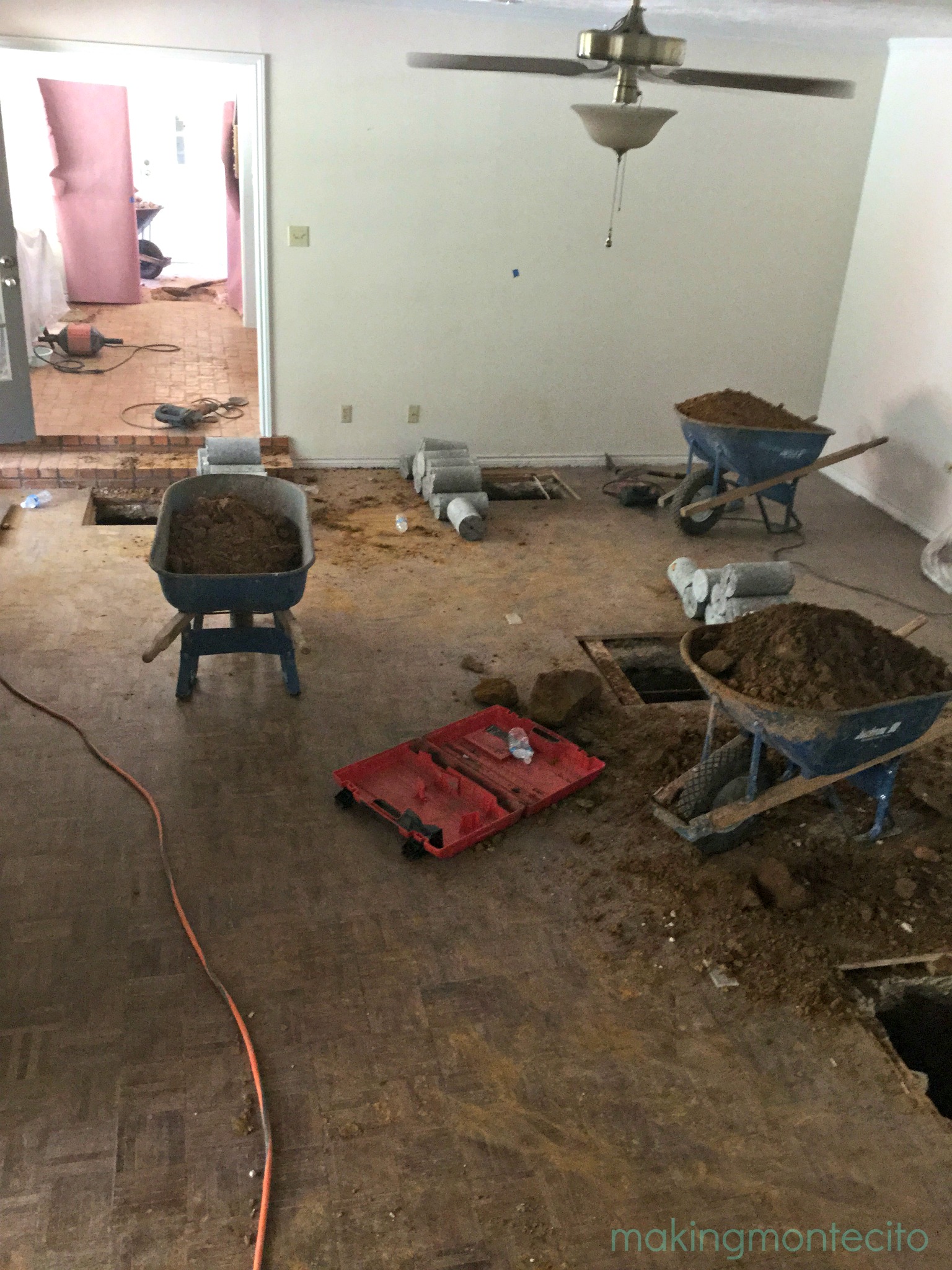 Yes, even my brick floors leading to the garage and in the laundry room. (They tried to avoid making holes in the kitchen floors and instead went through the laundry and the dining room.) At least they didn't cut through the post tension cable for our slab (that's in the dining room.)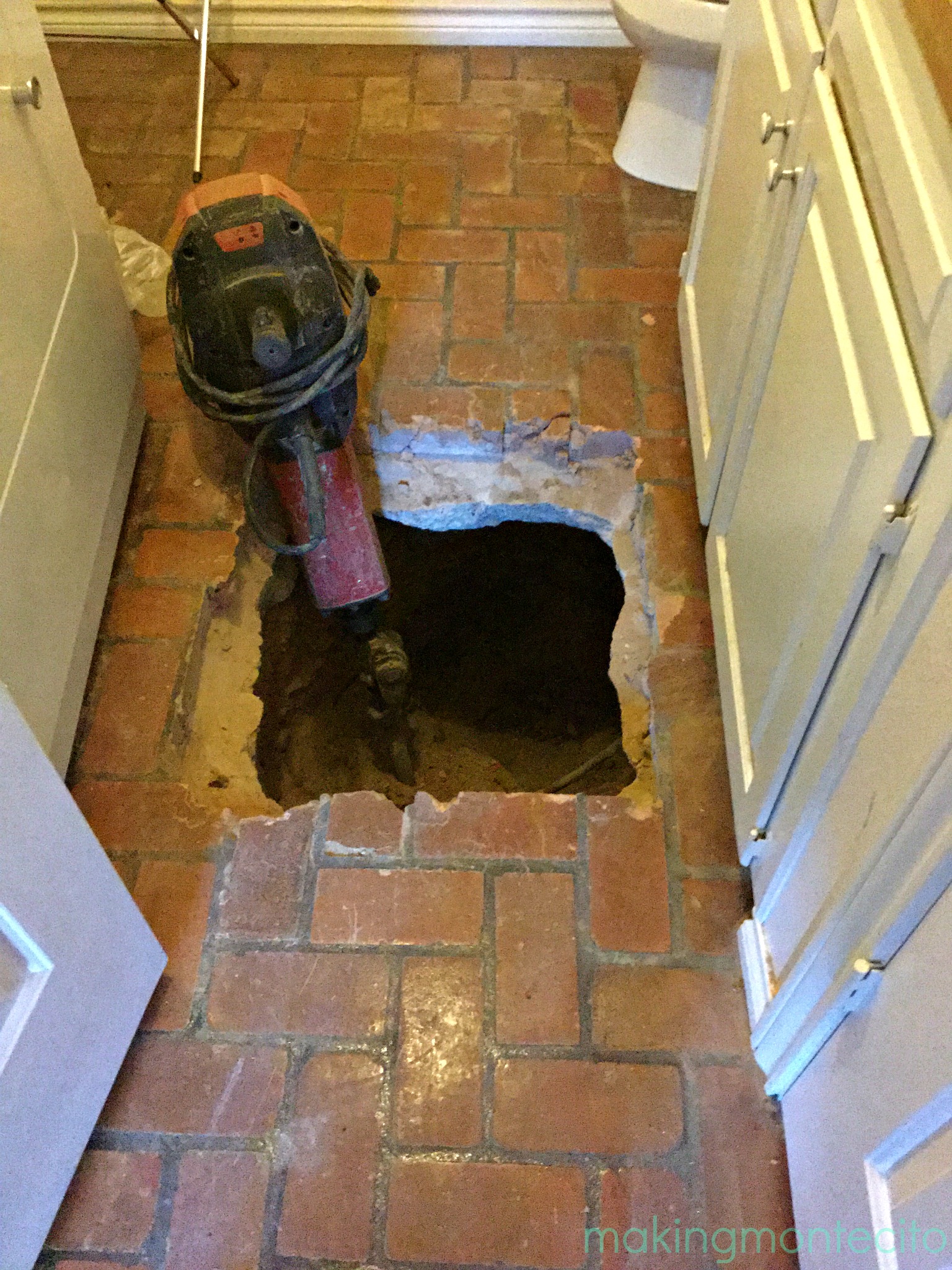 Here's the garage and out our back door.
I have to say, this was not the most pleasant thing to live through. Thankfully, our kids stayed with grandparents and we only brought the dogs back over at night. Trying to avoid all the holes in the floor was unnerving! I kept thinking I was going to fall in one!
Look at all those different kinds of dirt they dug out from just under the garage. It looks like some kind of cookie recipe with all the different colors and types of dirt.
We had 19 piers inside and the remaining all around 3/4 of the house. (Oohh, can you see my artichokes around the pool? They make me happy! I let them go to flower since there's no cooking going on in our house right now. I really need to move them to a better spot in the garden at some point and out of that hot mess of I-don't-know-what's-happening around the pool.)
One of the bright sides of all the rain we had (besides the lush green grass/weeds) was that the ground was good and saturated. Where they usually can only drive down maybe 5-8 piers before they hit resistance, they were able to drive down over 20 piers in some places! Crazy!
After they lifted the house (and no, the house is not completely level — the goal is to stop movement, if they lift too far, it can do more damage than good) they filled the holes back in with concrete up to the slab. We'll need to replace all our flooring — they don't do that. 🙁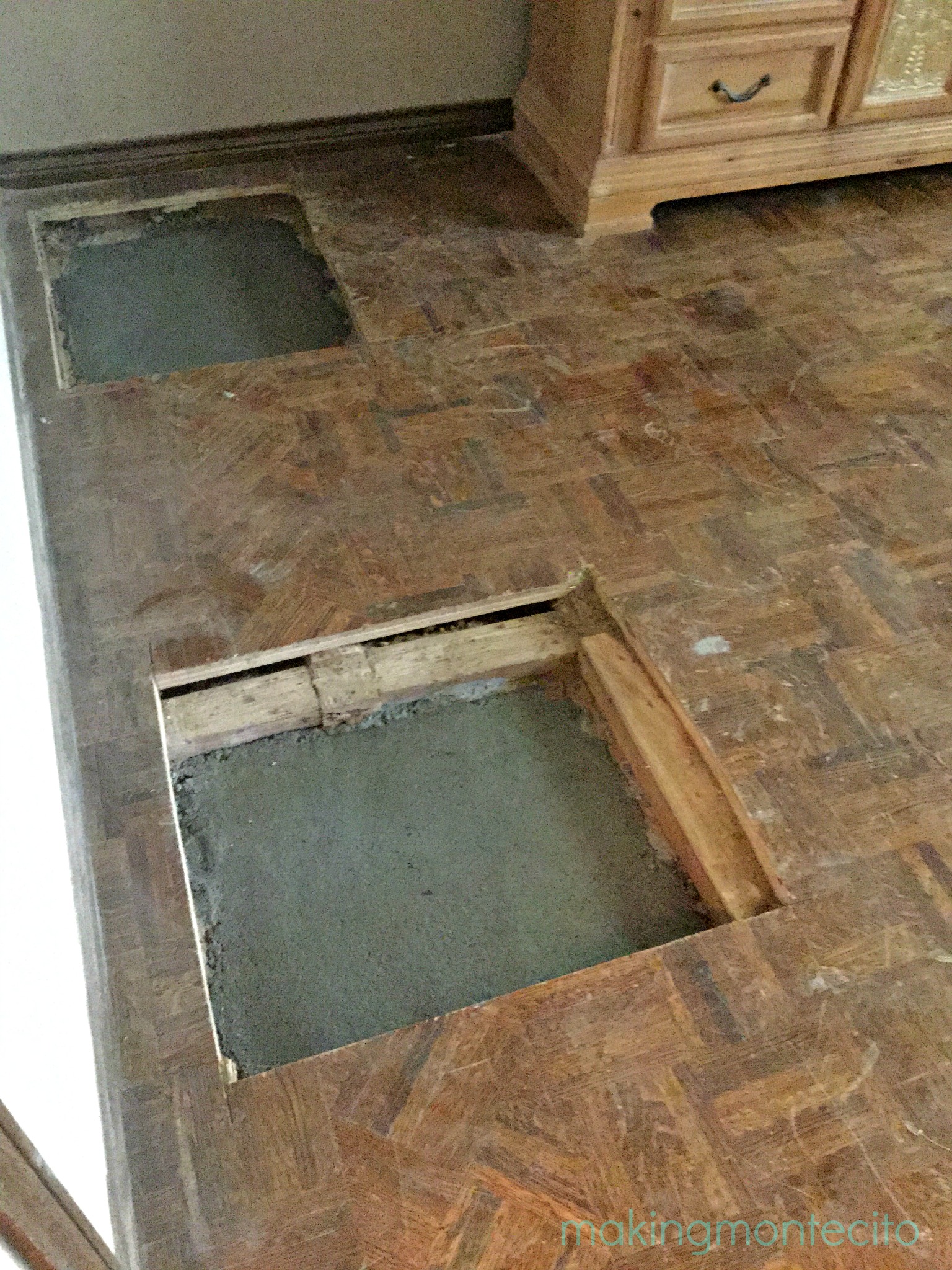 We also need to have a mason out now to see if they can repair our brick floors, which aren't for everyone, but I find them charming (a little hard to see, but notice the cute doggie paw prints in the concrete.)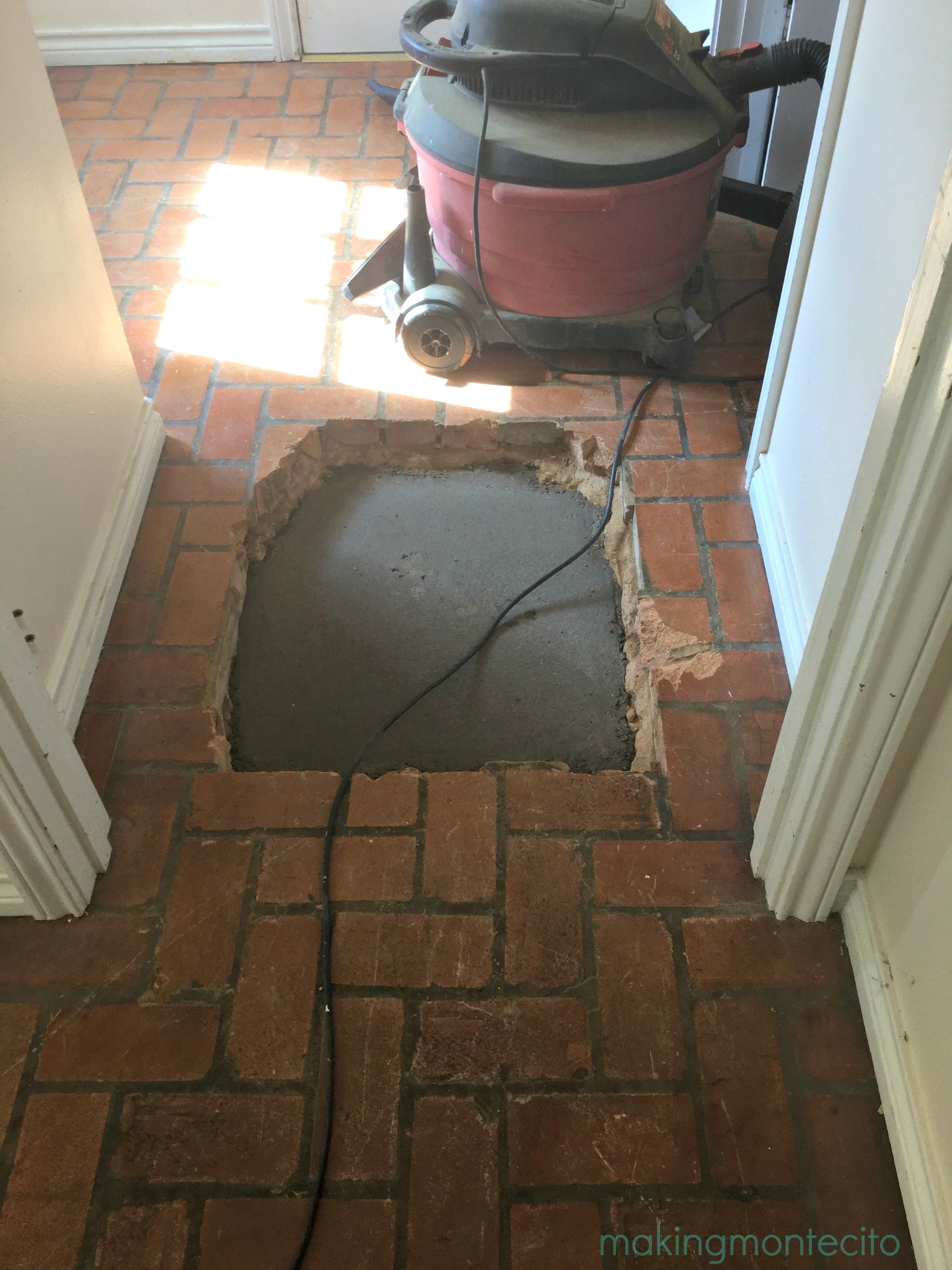 And of course you knew this was happening…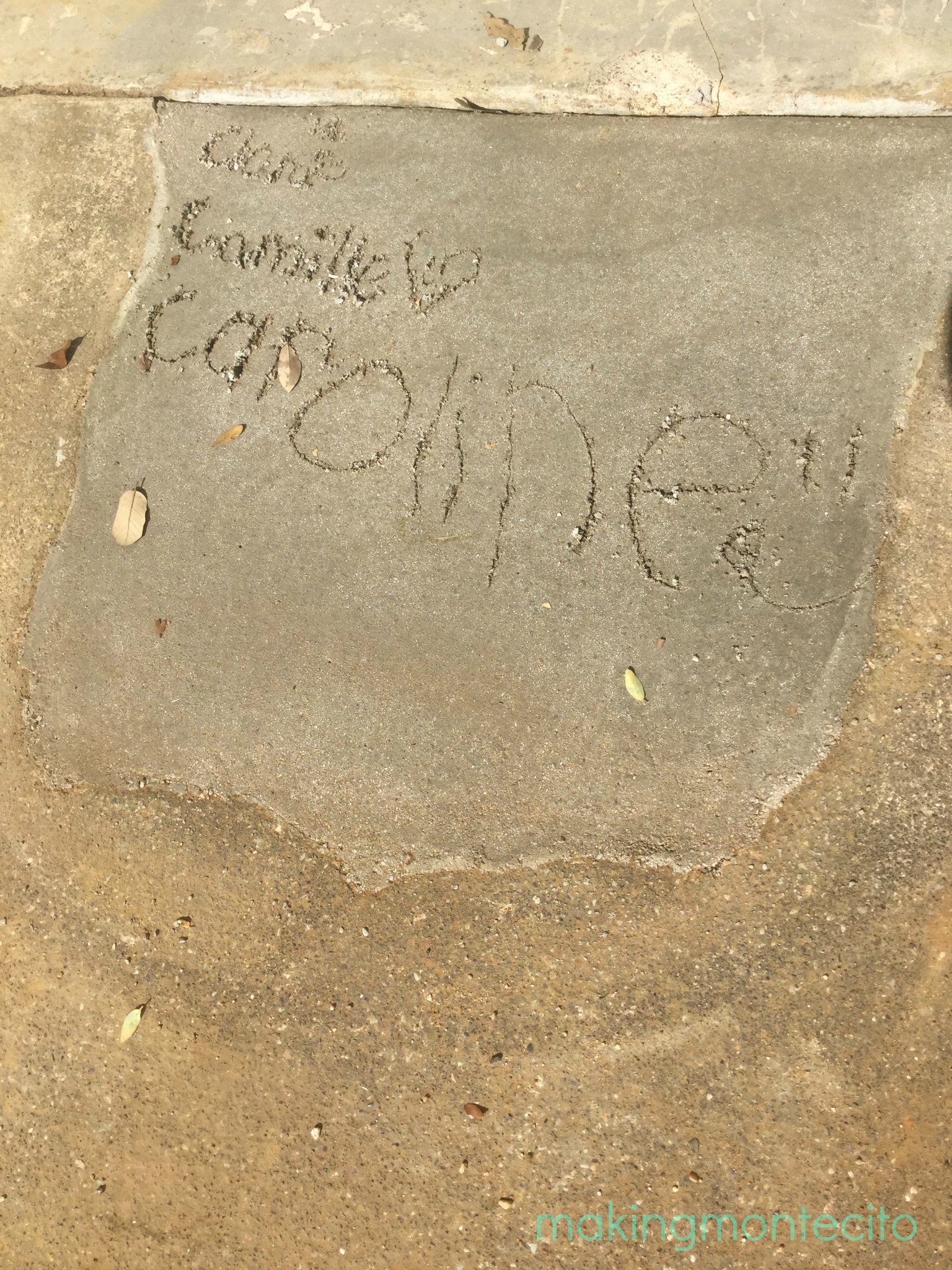 We still need to have the plumbing test done to make sure nothing broke (water or sewer) during the lift, and then they'll mudjack with a concrete slurry to fill the void created between the slab and the ground when they lifted the house. But after that, we can hopefully start putting this place back together.
I keep telling myself, baby steps.
On to some serious deep cleaning…