When my friend (and next door neighbor from our previous house) found out she was pregnant with her third child, I wanted to give her something personal.
This sweet family attends the same church we do and there was no question this little boy was covered in prayer from the beginning. When I decided to make the baby this little throw quilt, this was just a way to give my friend a physical reminder that he is indeed covered. By the way, I don't quilt, but I can sew a little — not expert level or anything — just "good enough", so I promise, this is a do-able project.
There are a number tutorials out there on simple quilts, so I'm not even going to attempt that. (Or this would be named "all the things I did wrong in sewing a quilt".)
But just in case you were wondering, I chose five coordinating fabrics (I got them at Hobby Lobby), one of which would serve as the backing, plus a white front. Here's a link to ModaBakeShop's tutorial that I based the look of this quilt on.
What I want to show you that makes this little quilt so special and unique is that I cut out an extra layer of white cotton material the size of the quilt. I then just started writing scriptures that I prayed for this wee little one and proceeded to fill up the "page" of material. I originally started using fabric pens, but found I had better luck with just a good ole Sharpie marker (fine tip.)
When I gave her the quilt, I also gave her a printed list of all the scripture written inside.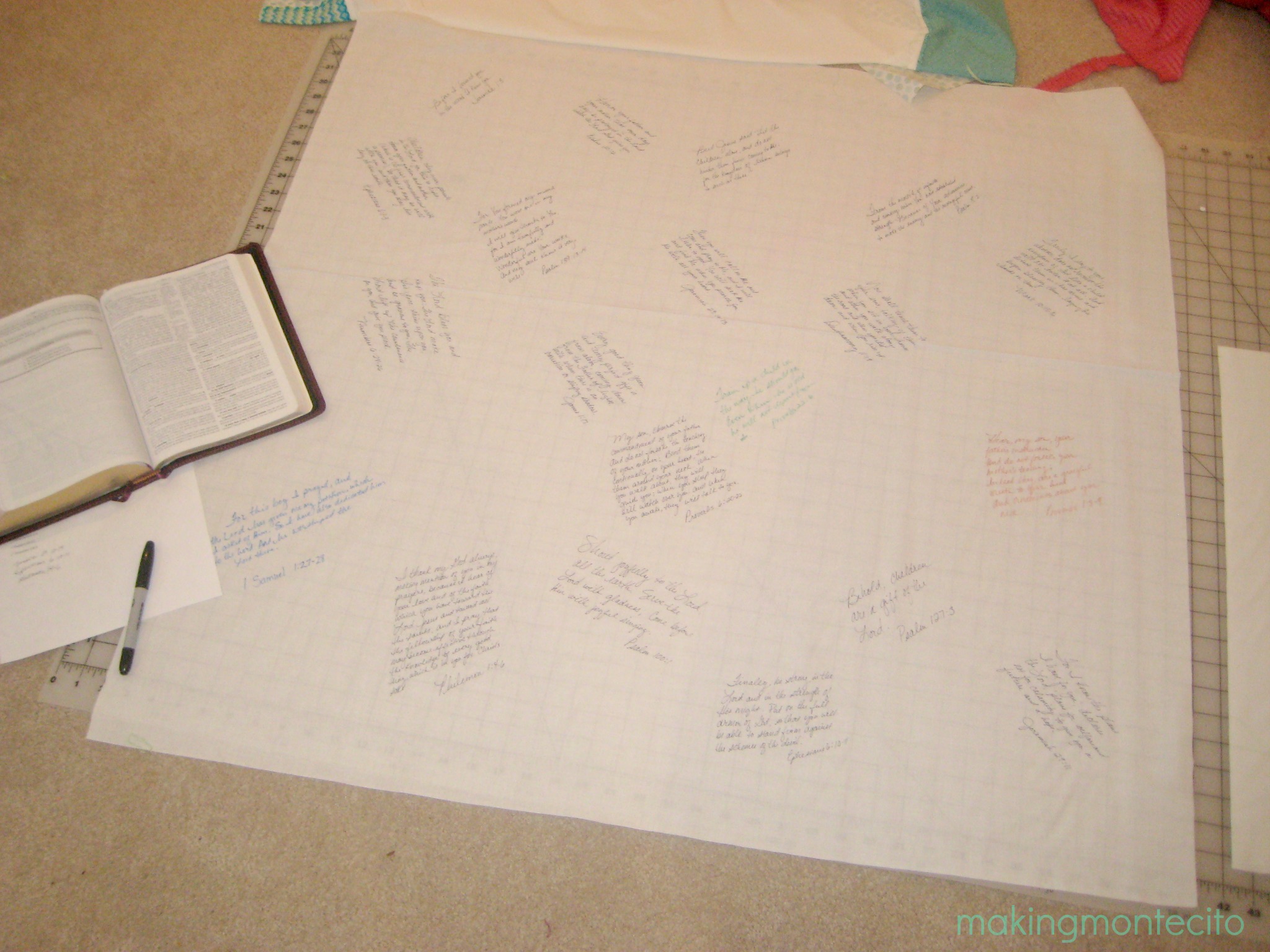 This just then became an extra layer within this quilt.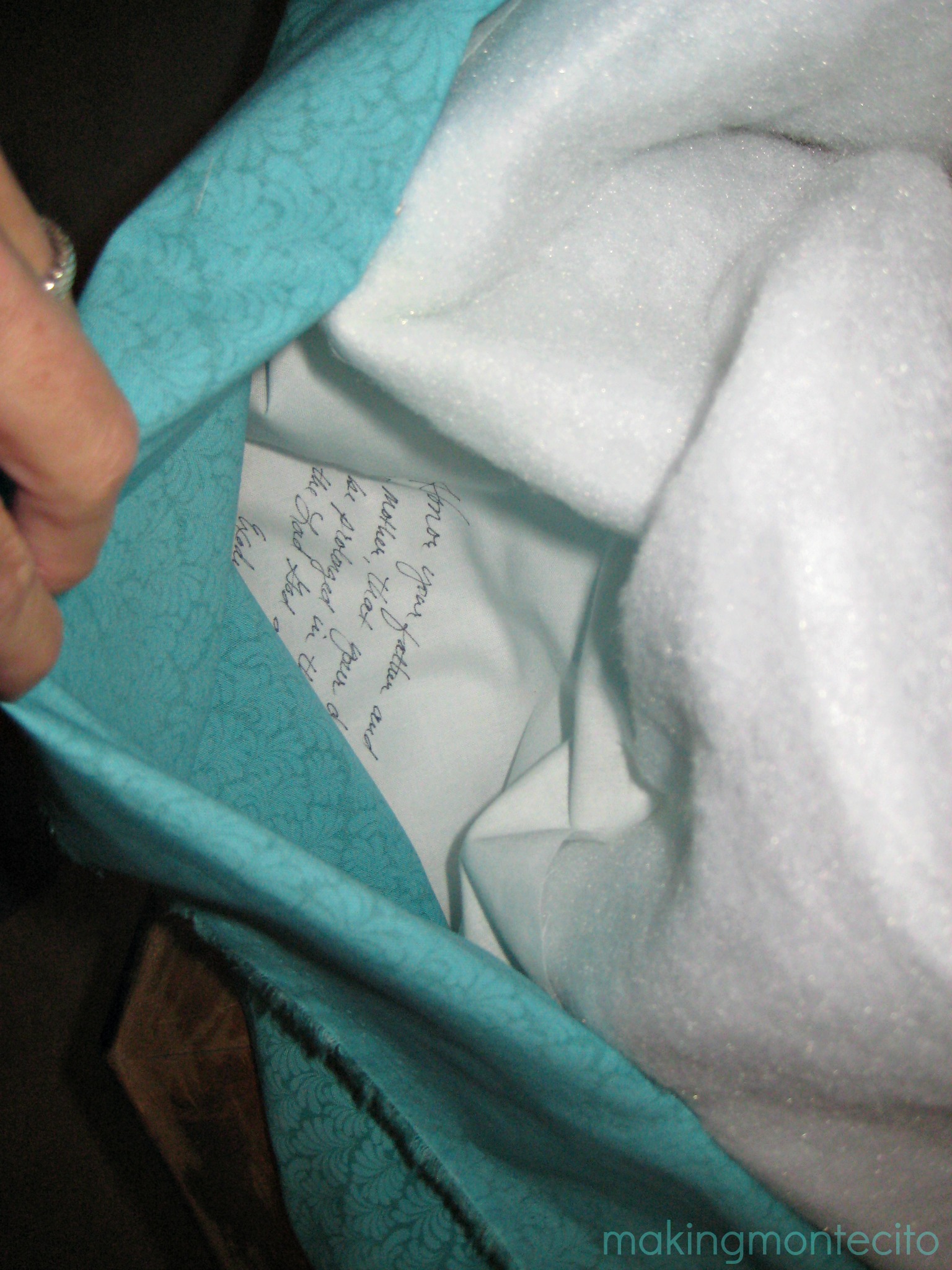 I couldn't find my picture of how the final quilt turned out, so I had to ask my friend if she could text me a picture of it. Please keep in mind I made this several years ago, before I had a blog, so this quilt has been in use for a while. After she texted me the picture, she said "Now that I took a picture of it, I realize it needs to be washed!" She said he sleeps with it every night. Melt.
If she knew I was going to post her picture of it, I'm sure she would be horrified, but honestly, I love the fact that it's really used.
And I love the fact that the sweet little baby boy that I prayed all those scriptures for before he was even born, sleeps under them each night.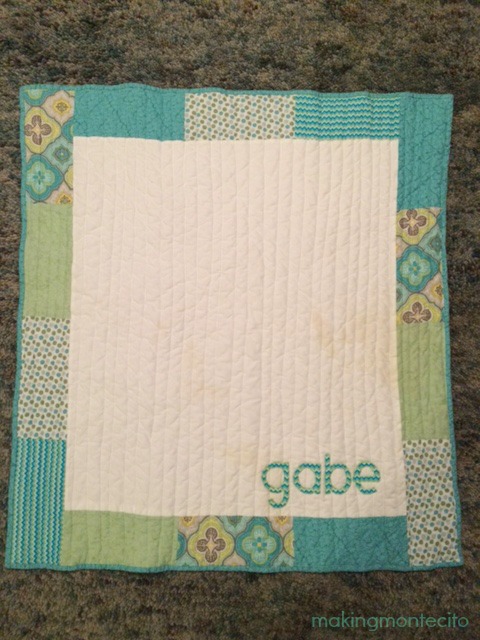 Makes my heart happy. 🙂