A very "Harry" Christmas to you!
Okay, I didn't post this before Christmas, because I'm pretty sure even though my kids claim they don't know I have a blog (I guess the word would actually be "acknowledge"), I think they might occasionally stop by, just to make sure I'm not writing about them. That would be so embarrassing, Mom.
Ehh, maybe I give them too much credit. They're probably wayyyy too cool for that (as I fall off my chair, laughing.)
Anyway, the youngest knows her older sisters are HUGE Harry Potter fans –I think over half of their Christmas lists consisted of HP related items they wanted. (I made them stop as they came downstairs so I could snap this picture…this is pretty much their home "uniform." Cracks me up.)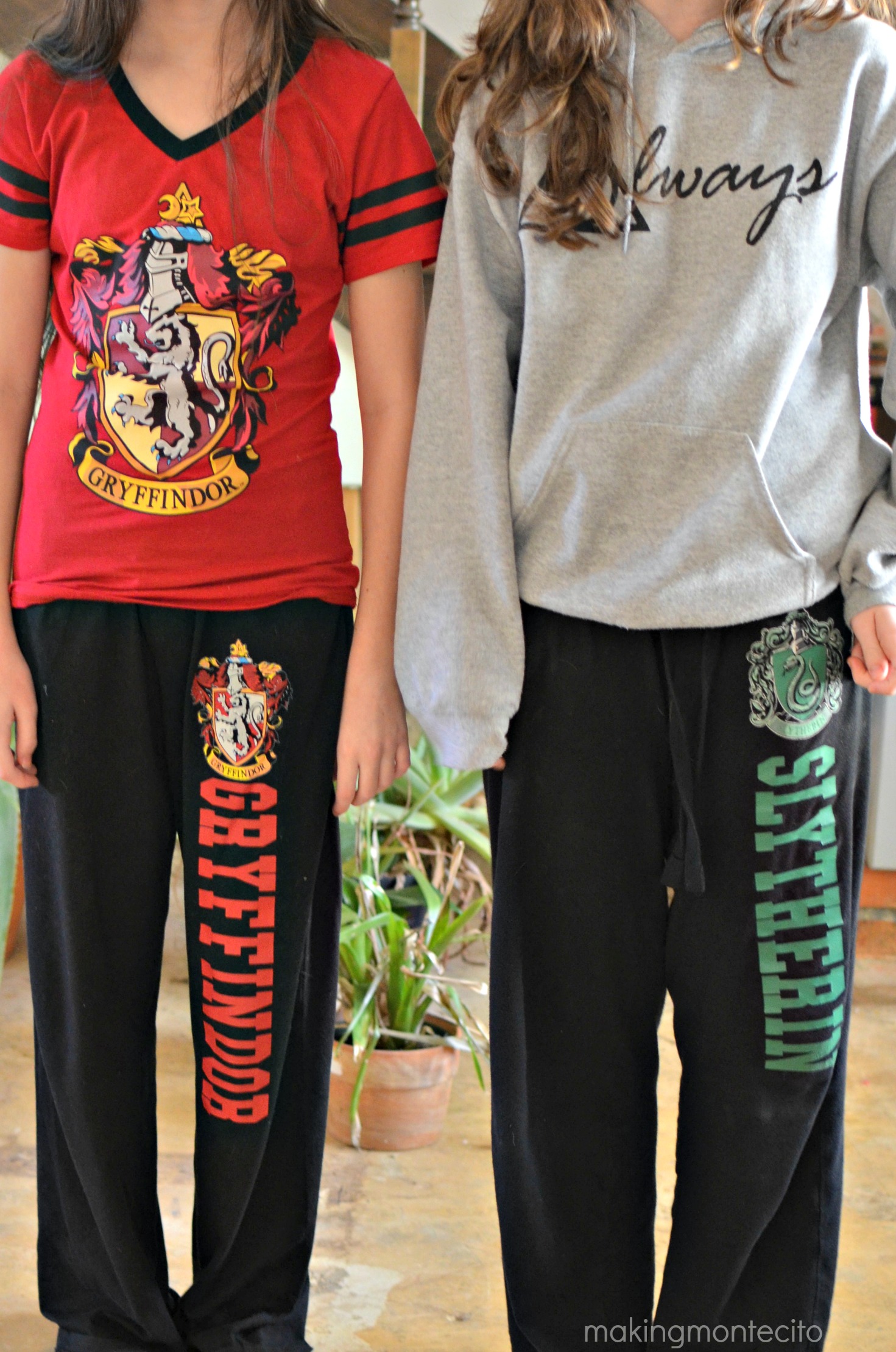 Well Kk is now starting to read the books, so she is getting the HP bug as well, so she really wanted to get them something HP related.
Problem is they each have a limit of $10 per sister for Christmas (or birthdays) when they shop for each other and Harry Potter items can be pretty pricey.
This year, Kk (with a little help from mom) made her sisters Harry Potter gifts.
Sweet! At least one of the small humans got creative and didn't just shop at Five Below.
And, you all! She totally won Christmas!!
Okay, not that it's a contest, but her sisters loved their gifts so much, they each wanted to make two more to match her gift and hang in their rooms. And Kk, not to be left out of any crafting going on in a five-mile radius, wanted to make some for herself. And because, who wouldn't want one?!
The older two kept going on and on about how they thought her gift was going to be something they were going to have to "pretend to like," but turns out it was super cool and they actually DID like it.
Score one for the kid sister. It was almost a Hallmark movie moment.
So, a-crafting-we-will-go….
Items needed:
blank canvases – we got ours 2/$5.99, less 40% coupon at Hobby Lobby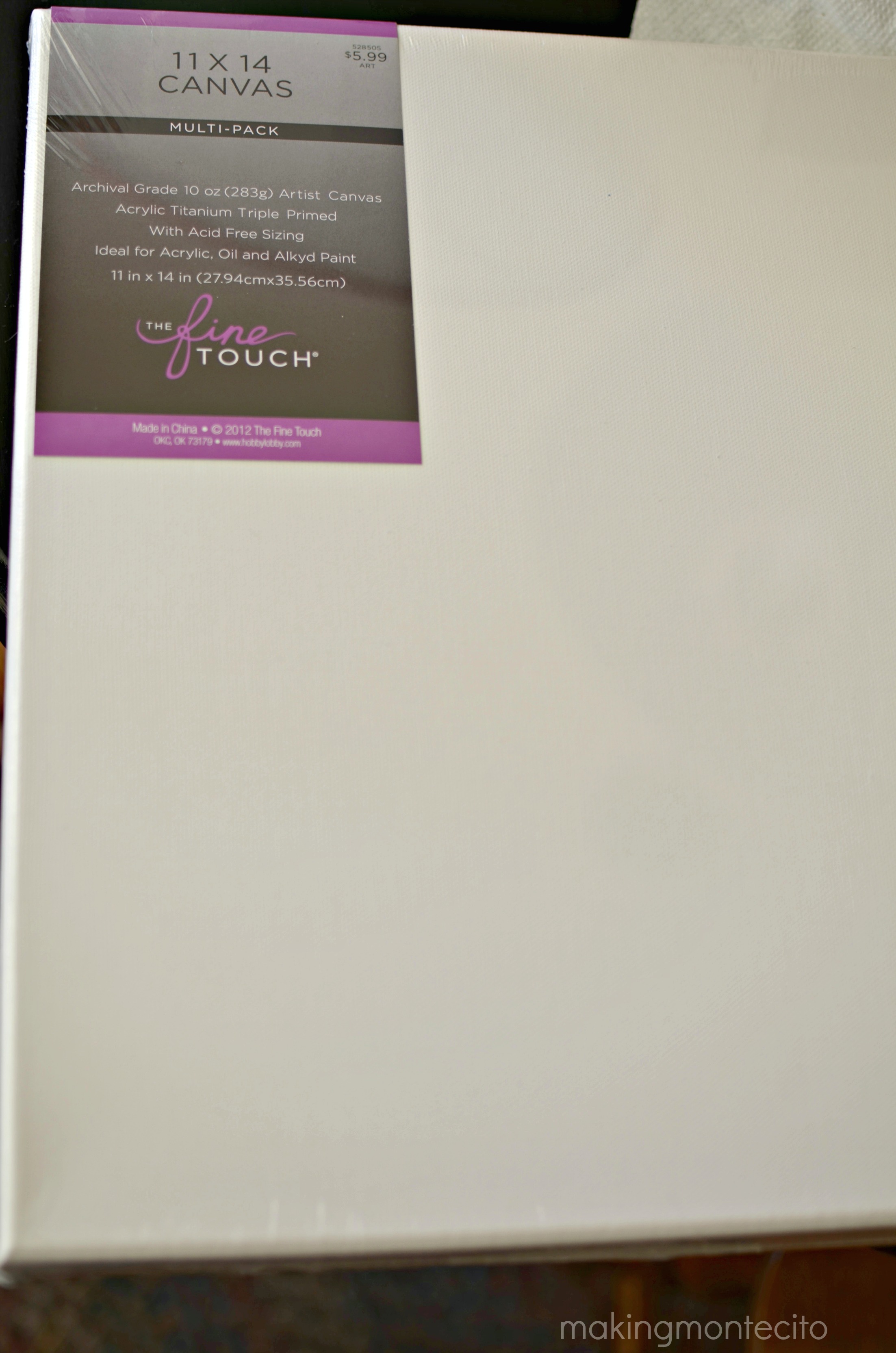 acrylic paint in colors of your choice – we used blue & purple that we had on hand
paint brush or sponge – we used these dollar store makeup sponges, because hey, a buck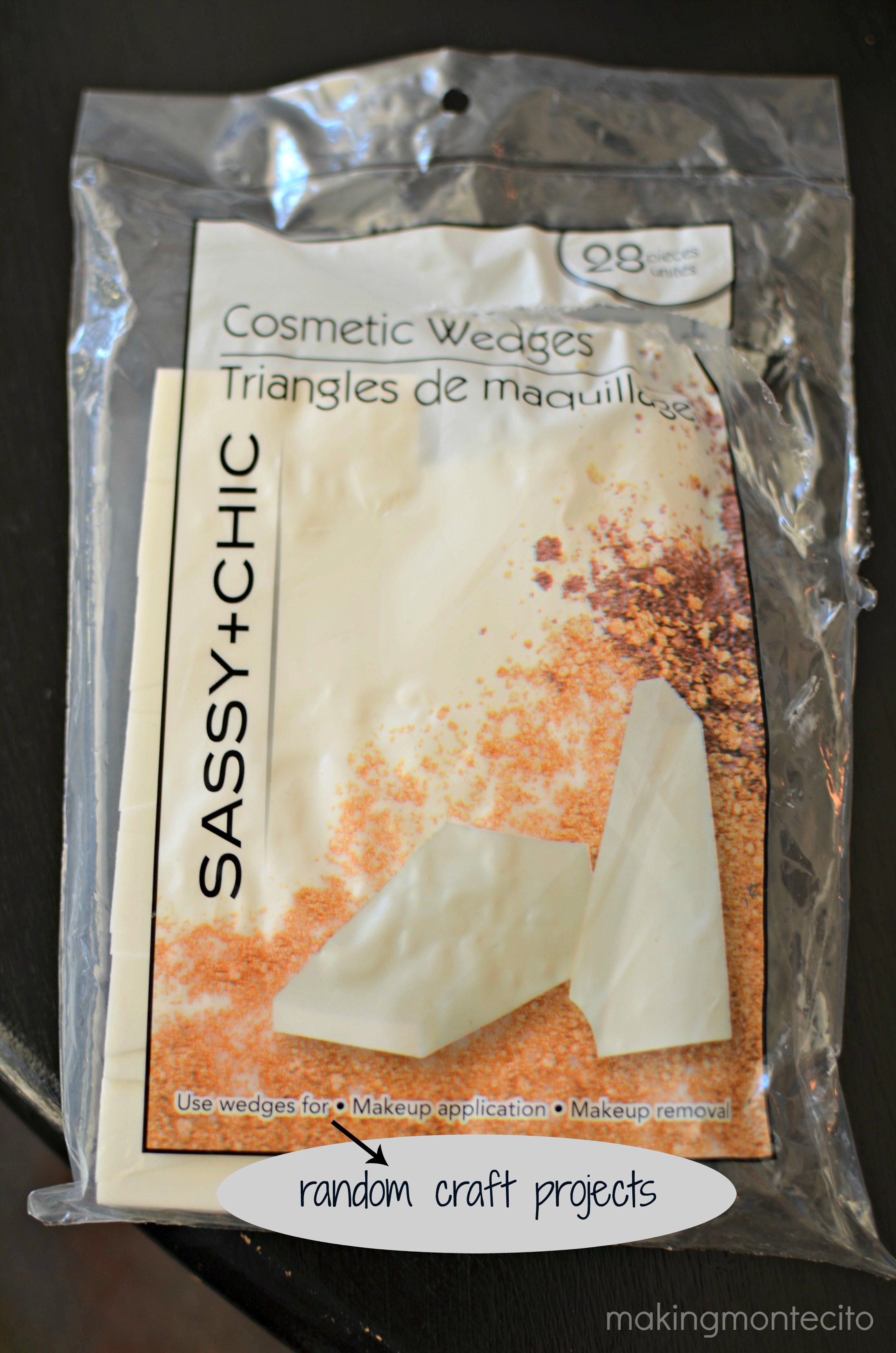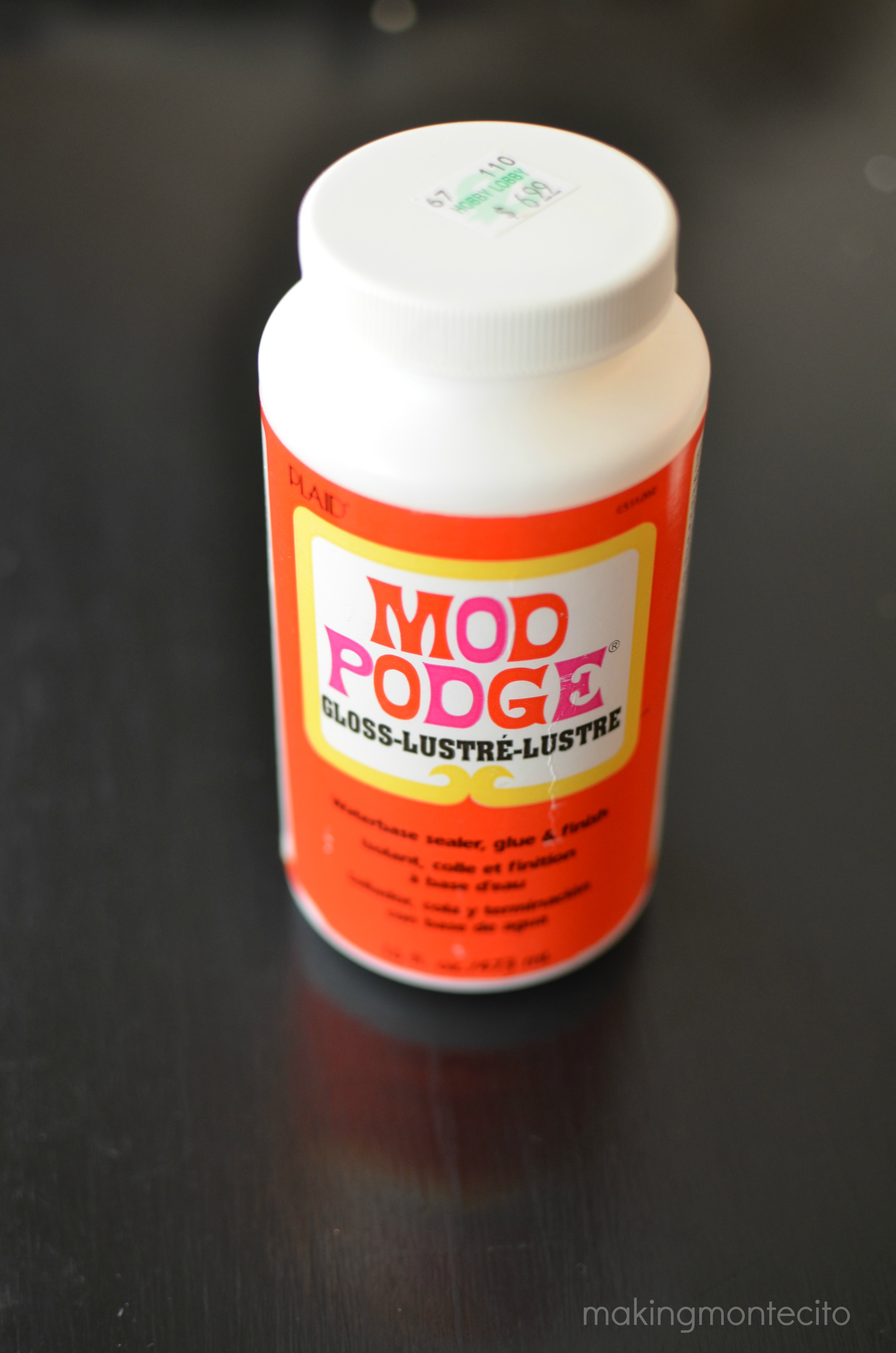 silhouette/vinyl or some kind of lettering — you could also use a paint pen and hand write it if you are awesome like that. I am not. Neither are my offspring.
I downloaded the font "lightening" from the Silhouette store when they had everything was half off. It looked very "wizardy" to me. It's now $2.99 in their store (and its only for personal use), but dafont.com has one called "Harry P" for free that looks almost just like it. I just now downloaded that as well, because hey, it's free and you can never have too many fonts.
I put paint on paper plates for each of the girls (heaven forbid they should share) and they just went to town dabbing paint everywhere. It made a great inside-day craft after New Years. You can't tell from looking at them, but it was like 10 degrees outside when I took this picture. Their dad was wonderful enough to start a fire in the fireplace behind them. Personally, I think I had 15 layers of clothes on.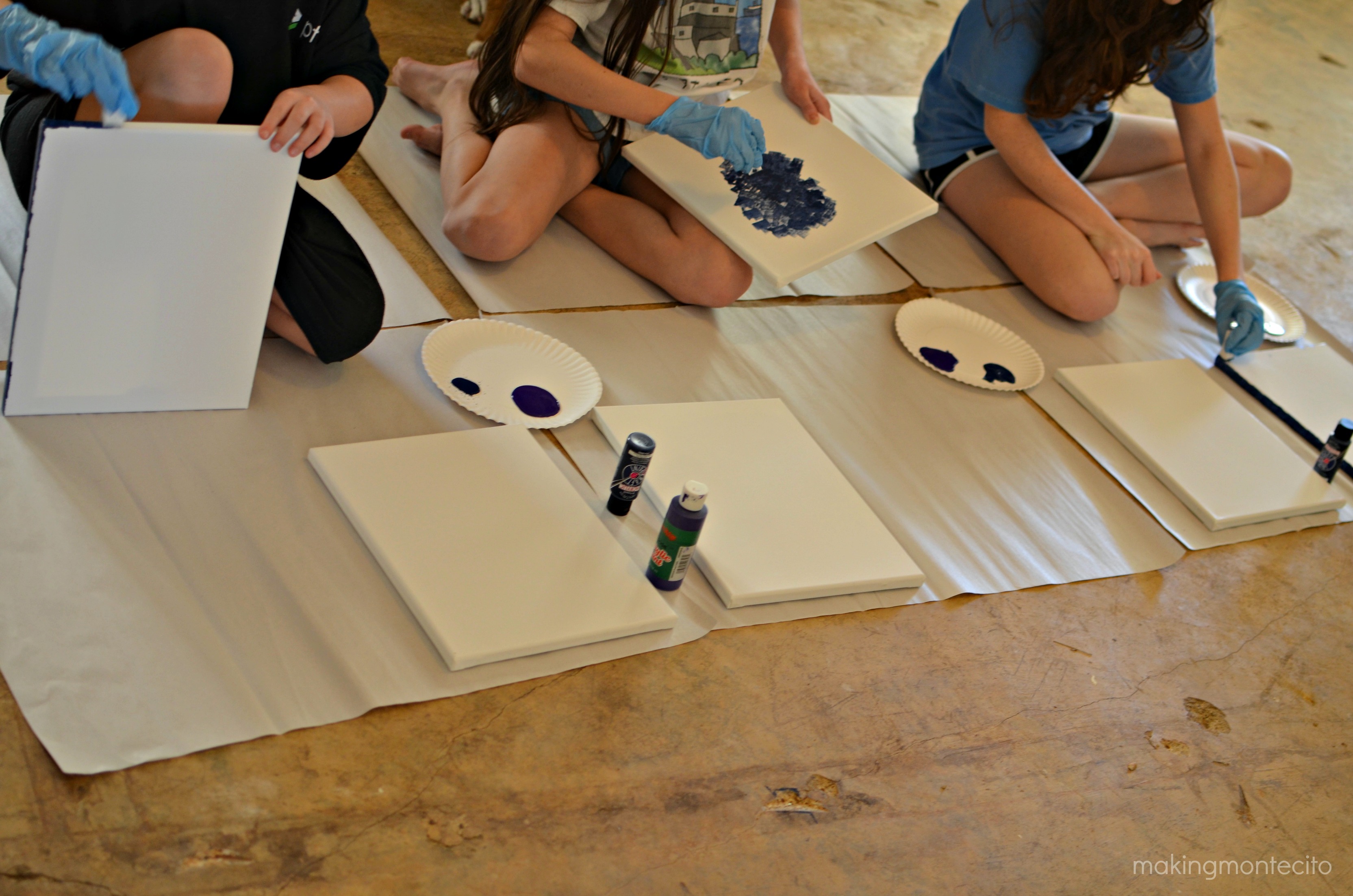 I guess the good thing about not having flooring put back in the living room yet is that it makes for an excellent craft area.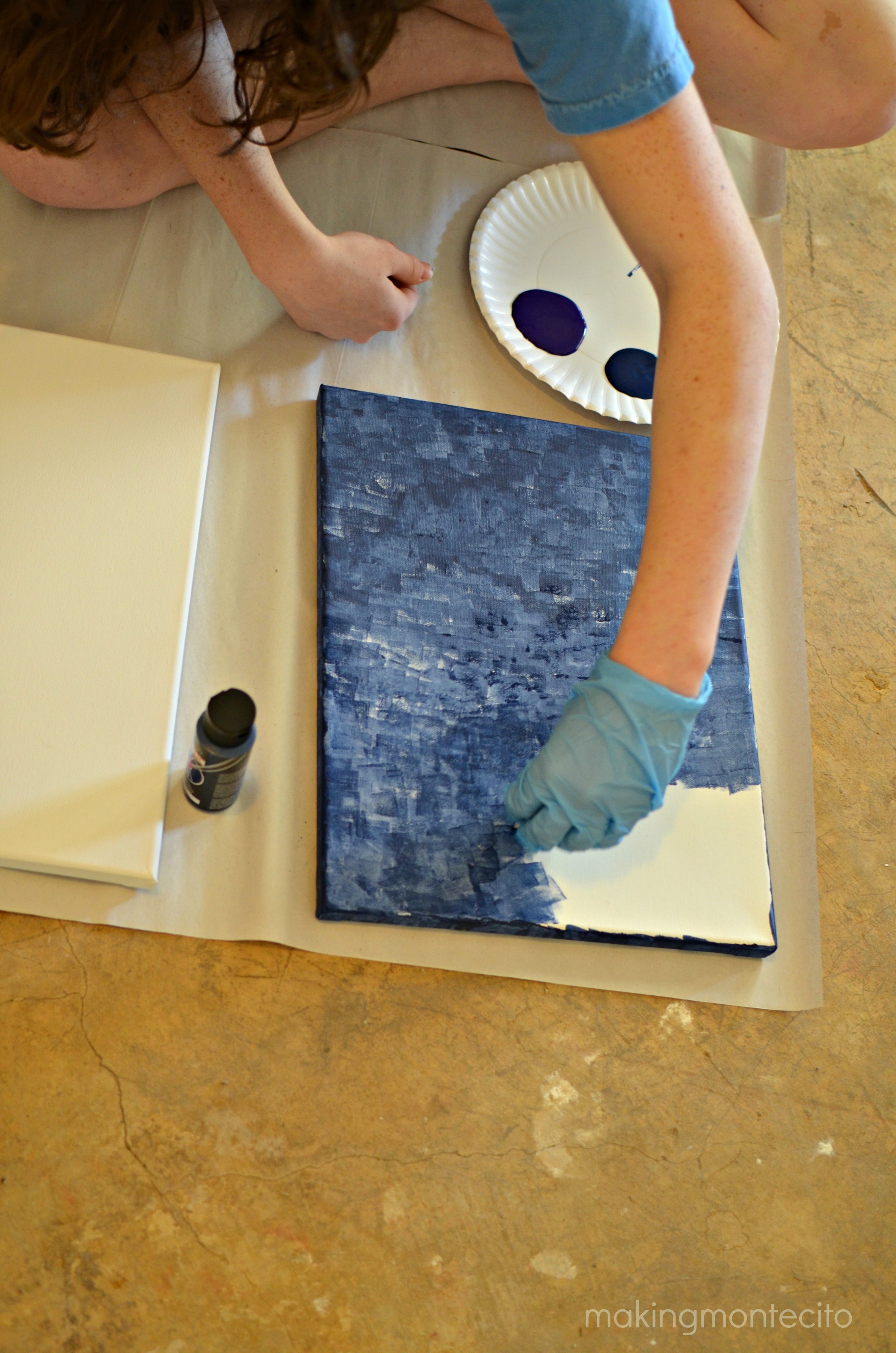 After they're dry, you can put on a coat of Mod Podge.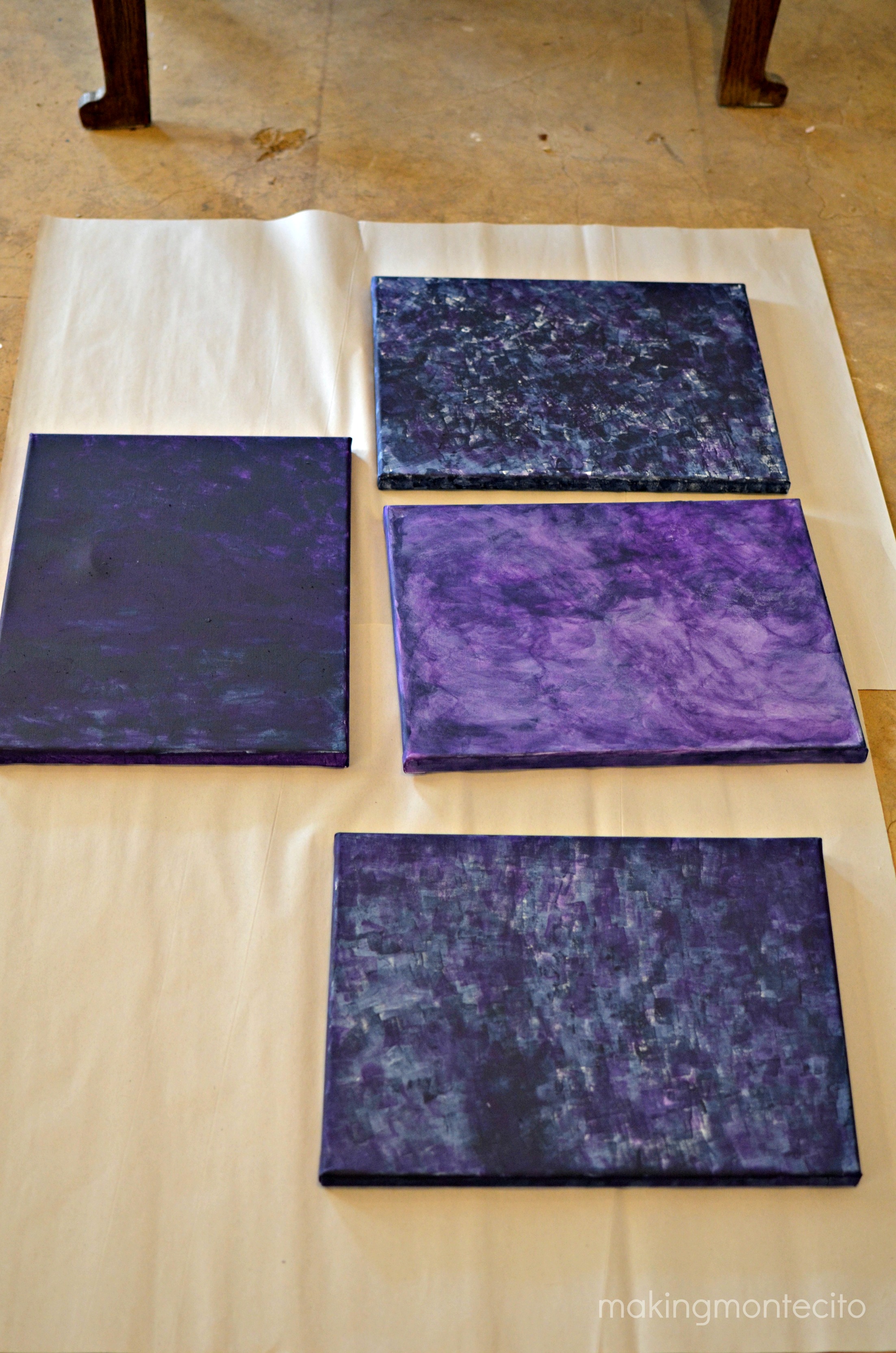 Kk said she made a universe and deviated from the plan. I love her 8 year old mind.
The Mod Podge is intended to help your vinyl letters stick to the paint. If you're not doing vinyl and just painting/handwriting your letters with a paint pen or such, you could probably skip this step until after you paint the letters as well. I didn't put any Mod Podge over the top of the letters, because I didn't know how it would effect them and didn't have time to test it out.
And good thing I didn't go over the top of the words with Mod Podge, because the girls pointed out to me that I mis-typed the quote. I put "when" instead of "if" when we made the original gifts. Did any of you hard core HP fans catch that? Most likely you did and are now silently judging me. Thankfully it was an easy fix.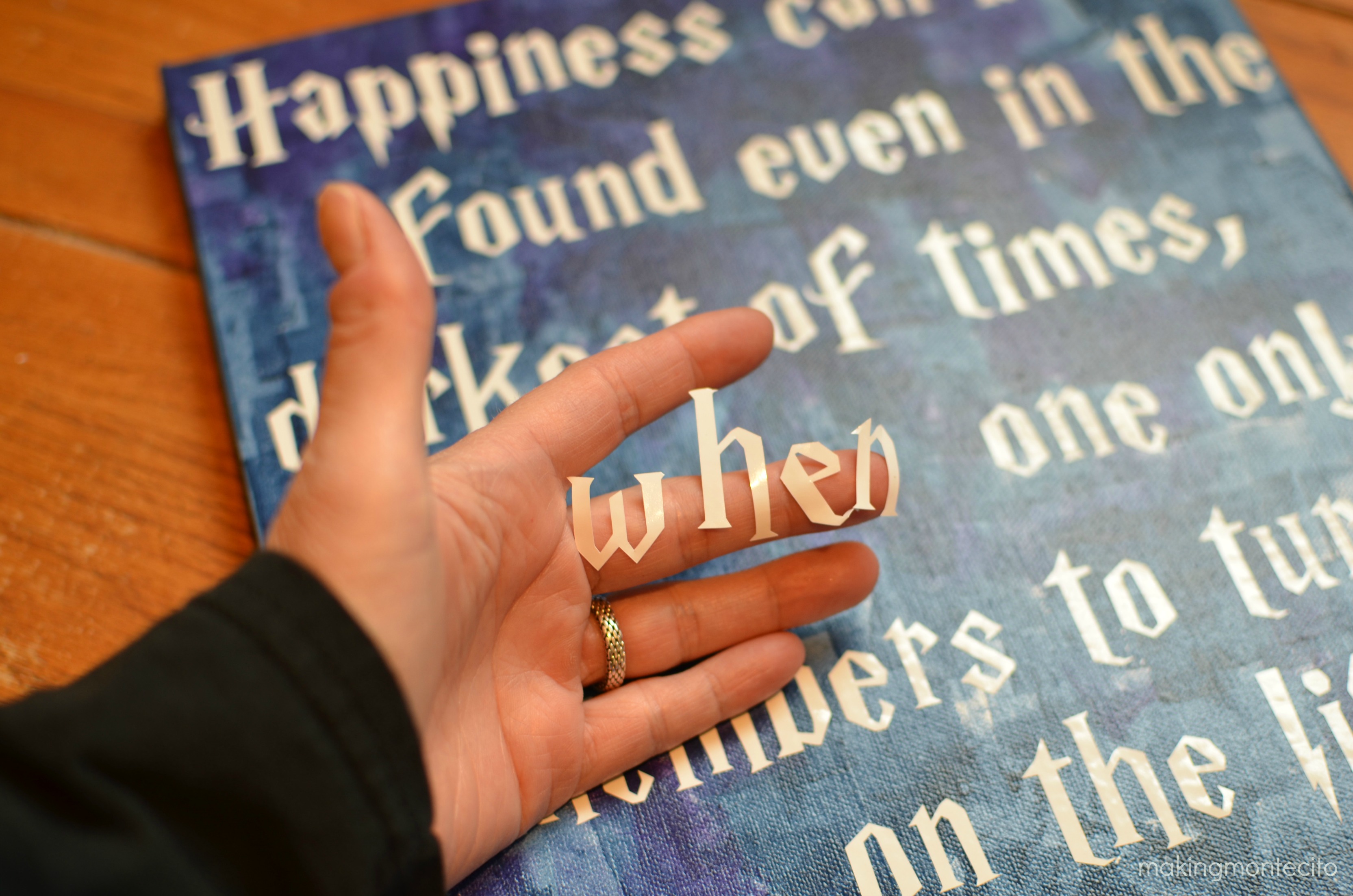 Also, a tip for trying to transfer vinyl to a canvas if you've never done it before, find something hard that will fit inside the frame of the canvas for stability when you're trying to get the vinyl to release from the transfer tape.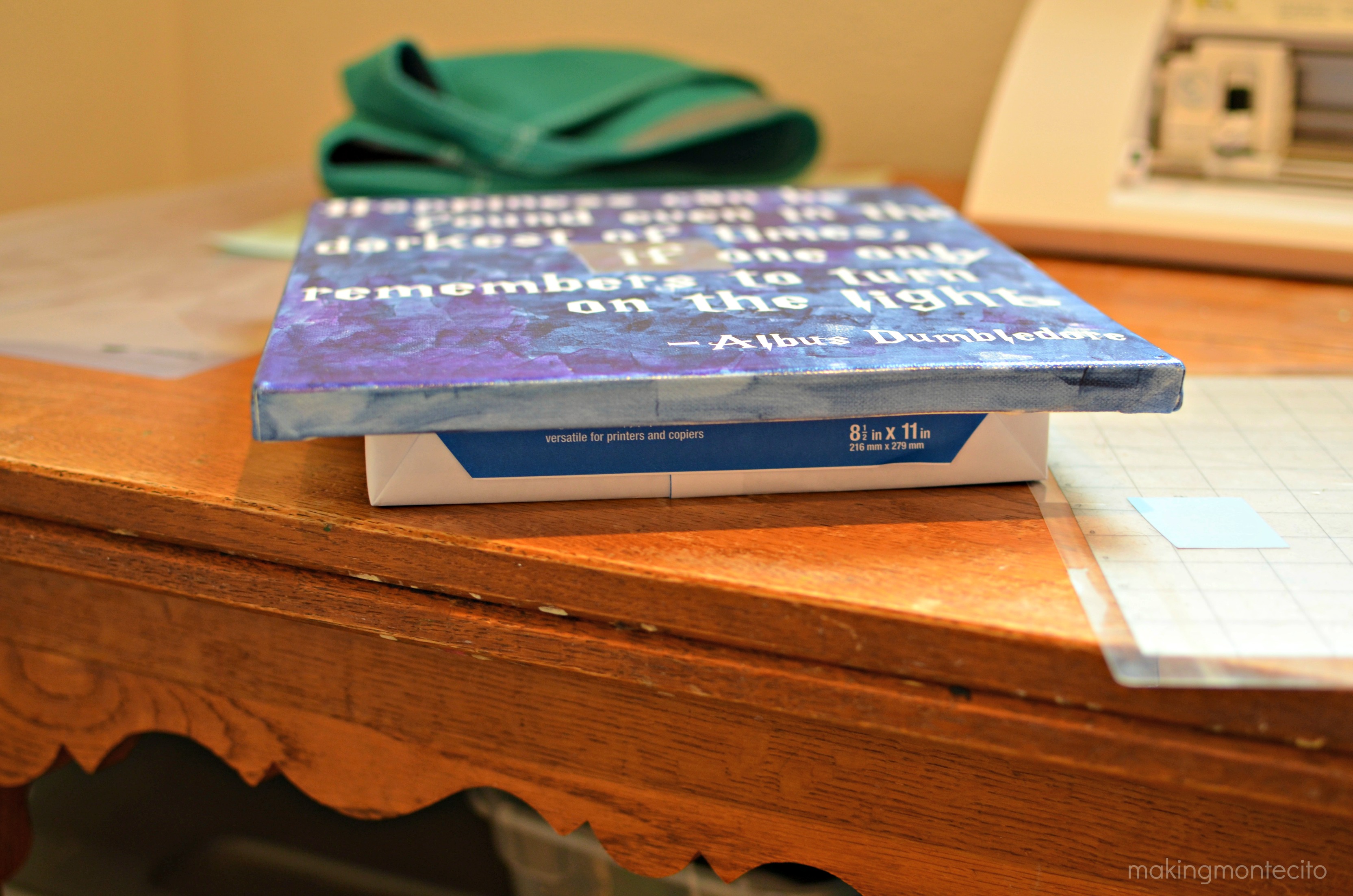 It's still not as easy to get it to stick to as most things, but if you go slow and have a little patience, you can get it to stick. For the 11×14 canvas, a ream of copy paper worked great. (I know you're diggin' my groovy craft table. I can feel it.)
This was such a fun gift, both for the girls to make and to get.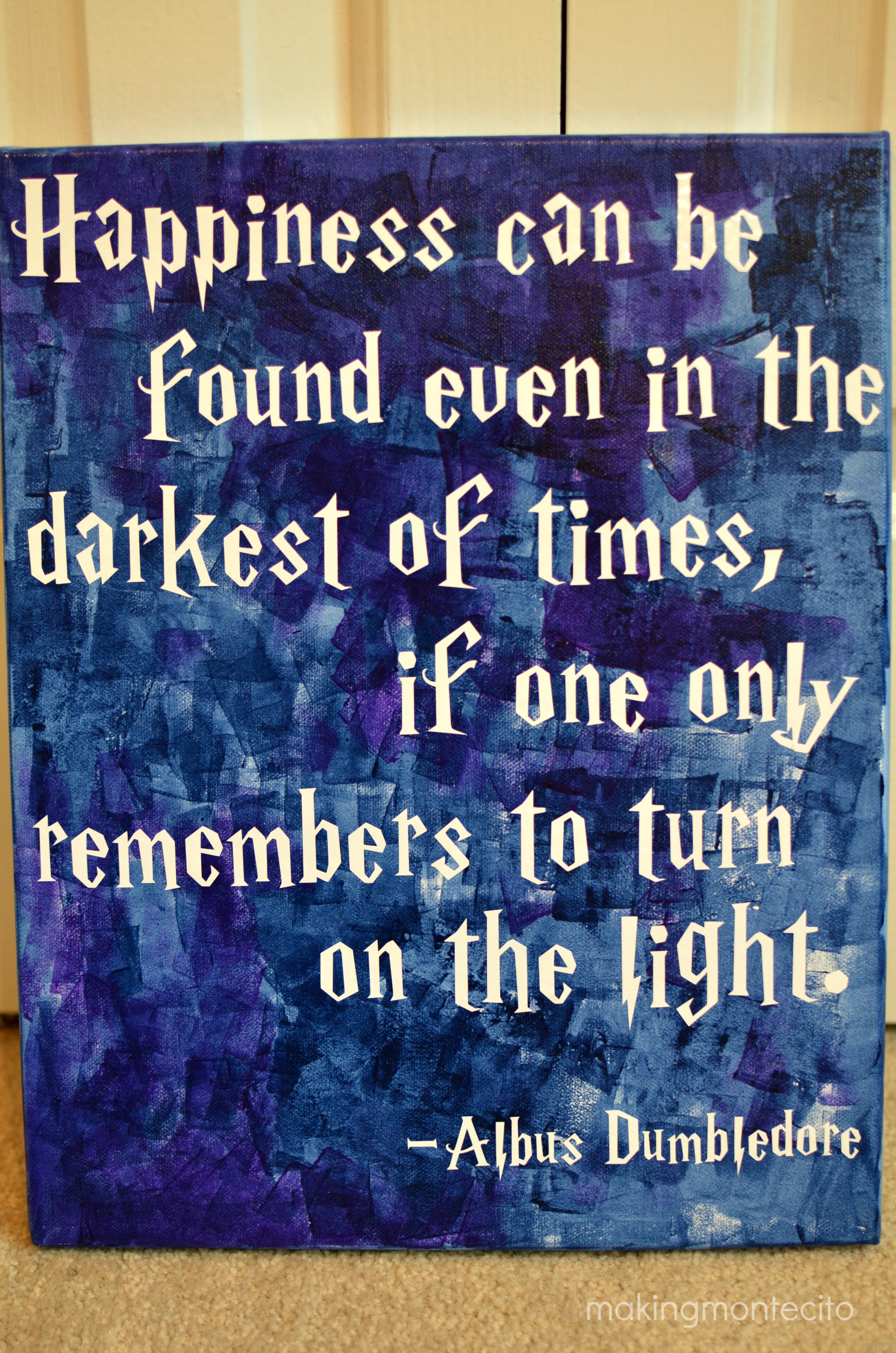 My little crafter, Kk was also super excited because Santa brought her a very cool Harry Potter gift of her own. A Harry Potter crafting book signed by the author.
She has been flipping through picking out all the crafts we have to work on. It's so fun, because the crafts actually go along with the book. She squealed when she saw the Remembrall Ring since we had just read that part in the book together. I'm pretty sure it's the first craft we're going to have to make.
You can find the book on Amazon here: The Unofficial Guide to Crafting the World of Harry Potter and yes, it's an affiliate link. And in case you're wondering, no, I didn't get paid to put this in here. I bought the book full retail at Barnes & Noble. Who in their right mind pays full retail  before Christmas any more? Apparently this gal.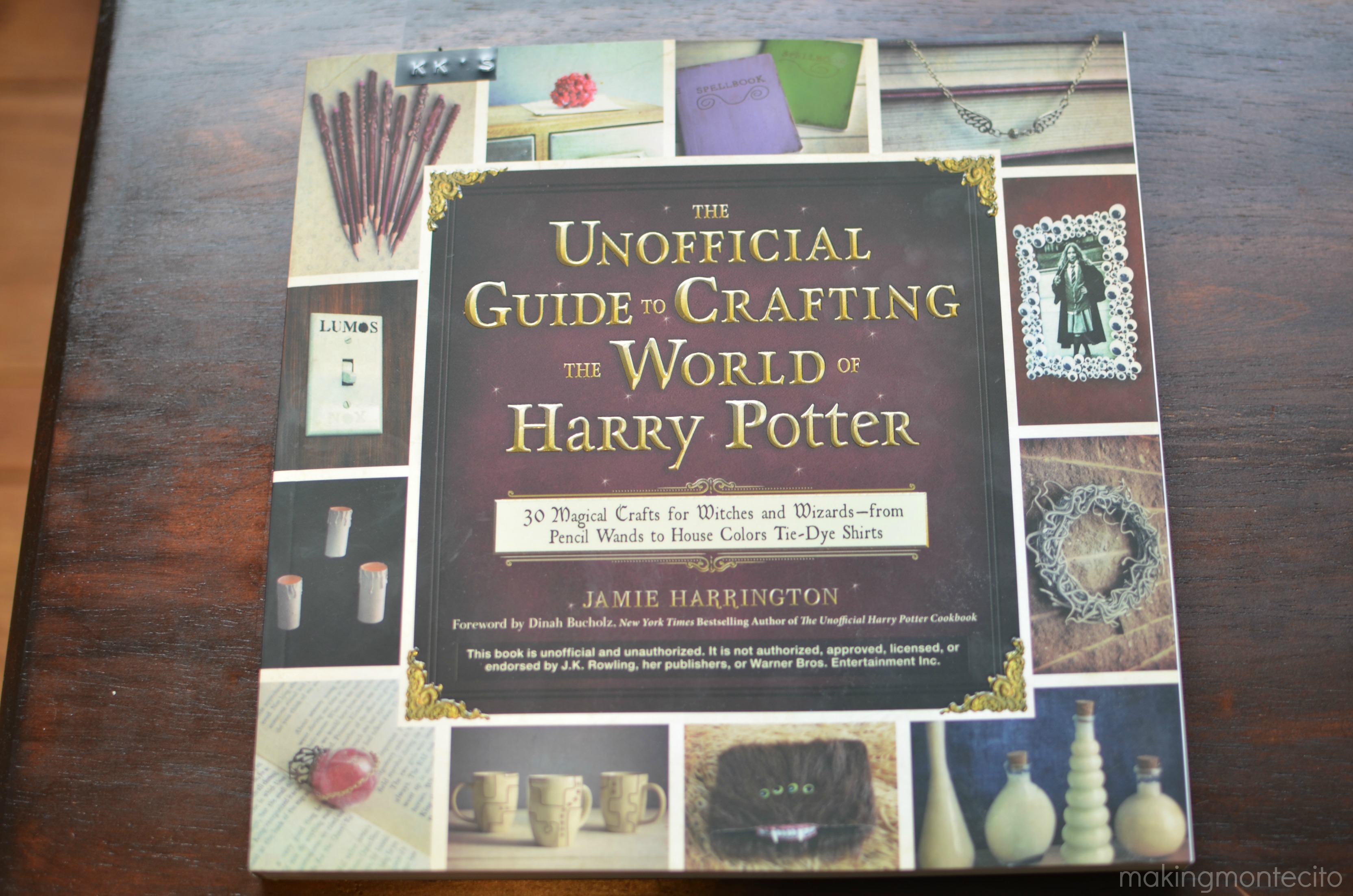 Maybe big sisters will get lucky enough to have their little sister craft them up another super-fantastic Harry Potter gift. 🙂